Martin Mars for FSX/FS2004

2 reviews

This addon is compatible with
Microsoft Flight Simulator X
. It should also work with
Microsoft Flight Simulator X: Steam Edition
. Some developers have explicitly stated compatibilty with Steam Edition but others haven't. Check the product description below for guaranteed compatibility. Just because it doesn't mention it, this does not mean it will not work with the
Steam Edition
.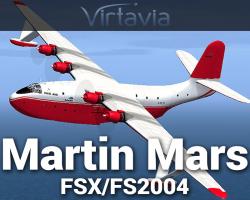 Media Format

Immediate Download

Compatibility

Microsoft Flight Simulator X & Microsoft Flight Simulator 2004

File size

25 MB
The Martin Mars was first conceived as an enormous bomber, a squadron of which could level Tokyo in a single trip, according to designer Glenn L. Martin. The prototype, XPB2M-1, was eventually transformed into a cargo plane with no armament, and served well in the Pacific from 1943-1945. Only six more of the type were ordered at the end of WWII. These served as transports until 1956, when they were retired. In 1959, the remaining four were purchased for conversion to firebombers. Two were later lost, but two remain flying to this day, the Philippine Mars and the second Hawaii Mars.

Features -

- full FSX model included with all FSX features (bump mapping, self-shadowing, bloom etc)
- two distinct models and detailed texture sets :
JRM-1 'Hawaii Mars' in red/white water bomber markings
JRM-1 'Philippine Mars' in US Navy blue WW2 scheme
- detailed virtual cockpit with animations (stick, pedals, levers) - engineer's station included (working levers but no working gauges, user can add if desired)
- many mousable switches in V-C (lights, starters, shutdowns etc)
- highly detailed 2D panel, all xml gauges, fully mousable, with custom pop-ups for AP, ECU and radios
- v-c gauges on both sides of cockpit
- highly authentic flight model with checklist
- FPS-friendly construction throughout
- animated access doors, 2 front (shift-e) and 1 rear (shift-e-2)
- simulated Mars soundset included
- detail Beaching Gear, togglable on G key
- authentic landing and nav lights
- v-c rain fx (FS9 only)
Customer Reviews
Rated 5.0/5.0 based on 2 customer reviews
11/06/2015

5

/

5

With its hilarious looking design and format the Martin Mars is one of the most impressive designs possible, ensuring that itís nice and easy for people with distinctive tastes in aircraft to try out something new and engaging.

I know a lot about this aircraft as a friend actually had the pleasure of being involved with one of the old Martin Mars aircraft still around today so it was really interesting to see how it would handle compared to what he had told me about the aircraft over the last few years. I have to say that it was really impressive and seemed to tick all of the boxes that my friend spoke of time and time again.

This made it really easy to buy into the format and style of this kind of aircraft whilst also ensuring that I would have no problem whatsoever buying into it style and its format with relatively little problems. What I did really take to, though, was the way that the various mousable switches in the virtual cockpit and the like made it so simplistic to fly. With the help of the way that this flies and operates in general, itís easier than ever to operate this.

I was concerned though that it would be quite buggy to fly around in, but the FPS-friendly style makes it easier than ever to last and keep the aircraft moving in the way that you had intended without your flight simulator locking up or stopping responding.
11/17/2016

5

/

5

Verified Purchase

Great to have a model of this A/C - We have one of the survivors here on Vancouver Island and still used as a water bomber. The FSX model operates very well, and should be a fine addition to one's collection. I'm not to impress with the cockpit (VC) detail, and hope I can find a replacement from FltSim library... or...?
Submit a review of this product
Customers Also Purchased