This addon is compatible with
Microsoft Flight Simulator X
. It should also work with
Microsoft Flight Simulator X: Steam Edition
. Some developers have explicitly stated compatibilty with Steam Edition but others haven't. Check the product description below for guaranteed compatibility. Just because it doesn't mention it, this does not mean it will not work with the
Steam Edition
.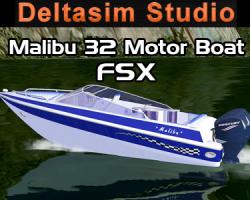 Media format: Immediate Download
Compatibility: Microsoft Flight Simulator X
Filesize: 74 MB
Have you grown a little bit tired of always just using aircraft in FSX? Then why not consider spicing things up a little bit with the help of this brilliant package by Deltaware? Introducing a whole new way of travelling with FSX, you can see the world from the calm and coolness of the seas instead of the breakneck and difficult nature of the skies.
A far more relaxing form of entertainment and travel, you'll find that using a boat can take away a lot of the frustration many of us face when using aircraft without actually removing any of the enjoyment!
What's Added?
In this package, you gain access to a wide range of highly detailed features and changes that represent this brilliant ship in the way that it was supposed to be in the first place. Dedicated to realism and capturing that look expertly, this package gives you a fully modeled motor boat with HD textures and a highly detailed range of additions within the design that just scream out class and precision. By using the U.S. Crownline style, this has a very specific shape that – if you are used to boats – will be very easy to get to grips with

With total control provided within this model, you get to use the full power of the excellent Malibu 32 and also get to use every feature that could legitimately be coded into the FSX engine. This adds a whole new layer of control over the kind of vehicles that you will put to good use when using FSX, as it adds another class entirely!

With total control over this boat, you'll also be able to make use of two very interesting models. Each comes with different variations from one another, including one with a pipe tower! This adds a nice layer of interest to the boat itself, giving you different variations to include

Highly detailed documentation that will help you decipher the mysteries of controlling such an interesting – yet challenging – piece of hardware and being able to find a way to actually use it properly. This guide will be your go-to location whenever you need a bit of fresh advice or information about how to best manage your boat and how to get used to all of the little quirks that will vary quite drastically from the aviation style you might be used to

132MB worth of data, features, additions, models, graphics, sounds and animations that all come together and make a truly high-end product. This would not look out of place in a proper boat simulator, so if you want to see what can be achieved even on a totally unrelated simulator you need to check this out!

New lighting to help you get the best view possible whilst you skim across the waters and see what the world has to offer you along the way

New dynamics to help you get the right kind of balance when you are controlling the aircraft along the way. This will help you get a nice feeling for the aircraft and how it can be best managed

A new range of outboards and switches are included, too, with unique sounds added in there to make it all come together so much better and to give you that proper boat sound
Key Features
The best thing about being involved with this kind of project is that you get to try out, for real, what these kind of high-end boats would feel like. well, with every specification matching the real thing to give you the utmost quality and realism in this package you will have no problems believing that what you are using is as close to the real thing as it possibly can be!

With this package, you will easily find that the key features included are all built around the real thing. For example, the characteristics of this boat are just like th real thing with accurate and authentic behavior. For example, with a power of 500KM you can easily find yourself flying around in circles if you don't try and harness that incredible power and energy along the way to keep it running at it's very best

The proper dimensions are included, with a 32ft length 13ft width and13.6ft height giving you all the help that you need in seeing just how these boats are so fast and nimble yet spacious for the crew who are onboard. This makes a nice difference for anyone who is a bit unsure about using a boat in FSX as you won't be taking on an overbearing amount of new features

A maximum speed of 60 knots ensuring that you can belt across those waves in no time at all, seeing whatever parts of the world tend to take your fancy!

A not inconsiderable weight of 4,160kg which can mean that you will notice the speed gradually need to pick up if you want to pull such a large and vast size along with you

Moving parts are added in to give the boat a far more authentic look and feel, with things like the front windows, propellers, outboards, rudders, throttles and switches all moving in a clear and simple motion

Controlled parts that are included such as speeding, reversing, turning, leaning at minimum speed and even the controller axis – this gives you the utmost control over the journey in total

A virtual cockpit made from scratch to give you that fine bespoke feeling when you first hop into the cabin of a boat – this gives you total access to everything that could have been possibly included in this kind of product

2x225KM Mercury outboard engine for giving the kind of rapid starts that you need without the excess challenge that comes with being able to take off in the right fashion

One touch starter engine that uses a 1 / 2 sequence to help you get things moving nice and quickly so you aren't wasting any time at all along the journey
Submit a review of this product
Customers Also Purchased