Fokker 50 Virtual X for FSX/P3D

10 reviews

This addon is compatible with
Microsoft Flight Simulator X
. It should also work with
Microsoft Flight Simulator X: Steam Edition
. Some developers have explicitly stated compatibilty with Steam Edition but others haven't. Check the product description below for guaranteed compatibility. Just because it doesn't mention it, this does not mean it will not work with the
Steam Edition
.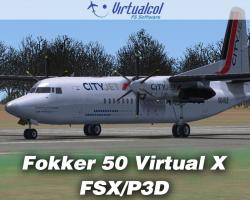 Media Format

Immediate Download

Compatibility

Microsoft Flight Simulator X & Prepar3D

File size

78 MB
When using a flight simulator, one of the most important aspects of the job is making sure that you get the closest thing to realism possible. Unfortunately, the original aircraft within Flight Simulator X and Prepar3D aren't of the standard that you might be expecting. With the help of the modding community though you can use aircraft like the Fokker 50 in a closer detail and more realistic format than ever before,
This package comes with vast improvements to the overall quality of the aircraft, taking in many hours of footage and information to make a true conversion of the aircraft for the truest feel possible. This has been completely re-textured and updated to fit with the very highest possible limits within the flight simulator you are using, giving you the best possible output and the most realistic version of the Fokker 50 available.
However, we all know that it's not just about the look when using a flight simulator – you want the full experience. It includes a completely reworked flight dynamics system, as well as fresh new tools and adjustments included. This includes an authentic real-time execution of the Auto feather system when the engines are first turned off.
Simple to install, this plug and play addition to your aircraft simulation experience can be one of the most engrossing yet. Every last detail has been included and refined to make sure you get a service that's up to the standard you originally expected. Various improvements have taken place over time to keep this update in line with the latest changes and improvements to the modding systems available, giving you an impressive catalogue of small changes that are added in to give the complete look and feel to the entire aircraft.
Key Features
Makes full use of DirectX10 compatible hardware to produce realistic shines and sheens across the model textures, giving you an elite level design that matches up with anything else out there on the flight simulation market

Detailed flight manuals that help you master the aircraft and understand every last button and command that can be utilized from the cockpit – take control over a wide selection of different controls to make the flight home as challenging or as simple as you want

Detailed textures and a remade model give you the most realistic version yet – this takes in many smaller improvements to make the final aircraft look as outstanding as it possibly can. From the textures being remapped and improved time and time again to the abundance of time and research put into the creation of the aircrafts attributes and specifications, this is the most accurate and realistic equivalent available for the Fokker 50

New sounds included bespoke to the aircraft so that it looks, feels and sounds as it should in real life – this helps the simulation become even more captivating, giving you a truly remarkable way to enjoy the game and the world around you as you fly where you wish
Customer Reviews
Rated 3.0/5.0 based on 10 customer reviews
06/24/2018

5

/

5

Just bought the Virtual X V3.0 today and I'm really happy with it. I'm not sure what others don't like about the VC. I think it looks great. I'm not too crazy about photo 2D panels on any add-ons but that's me. Fokker 50's logged 10's of thousands of hours so they did get their share of wear and tear. Once you know where everything is, nothing to it. But hey I only paid 5 bucks for it. I'll make nice clean shinny new looking buttons myself. It didn't bother me enough to do it years ago when I started with the 2004 version.

Anyway, to keep it short, read the manual. It tells how to turn on things like electric and fuel. Airplanes need that stuff. Also practice with the ASC. Fokker 50's used that for throttle control in the real world collectively with the GS and nav mode. It doesn't work that great on this add on but it didn't work that great on the real one either.
02/02/2019

3

/

5

Verified Purchase

Seems to be a nice airplane but really hard to start the engines and keep them running. Read the checklist, several ideas on several forums, still haven't got it in the air yet. I'd really like to try it out, I'll try a few more times before I give up and remove it.
02/27/2018

1

/

5

Verified Purchase

Load of crap, don't buy it! Any button press can cut the engine, even a light switch. It says P3D compatible but only offers to install to FSX. It can be made to work in P3D but you'll likely get rid of it quicker than you install it. The worst plane I ever tried.
12/10/2015

5

/

5

Verified Purchase

Worth to purchase for propeler and Fokker enthusiast. As close as real to handle. Not too easy to start the prop engine, but make it more interesting to fly. VC not too good but worthed. Overall it's ok
11/06/2016

1

/

5

Verified Purchase

Hi, I bought Fokker 50 but I can't find an ENGLISH MANUAL, but only in espanol, and purchased key to. Could you please can dens me a direct link: Thank you and regards, Luigi Brambills
12/29/2014

3

/

5

Verified Purchase

Kind of glitchy, but I guess you get what you pay for. The sound should probably be revamped and the cockpit controls are difficult to work with.
02/25/2019

2

/

5

Verified Purchase

Hi can't fly in FSX steam edition changing from cockpit to viral cockpit then stopping the engines is someone who has a tip
06/01/2019

1

/

5

Verified Purchase

The Engines on the fokker 50 keep on shutting down and when you try to start one, the other one goes off.
11/21/2018

4

/

5

Verified Purchase

It's not bad. Nice to fly and works well in P3DV4. The model is not so explendid but reasonable for me.
06/22/2018

5

/

5

Verified Purchase

Nice and easy to fly. Virtual cockpit is even in VR (Oculus Rift) beautiful.
Submit a review of this product
Customers Also Purchased