This addon is compatible with
Microsoft Flight Simulator X
. It should also work with
Microsoft Flight Simulator X: Steam Edition
. Some developers have explicitly stated compatibilty with Steam Edition but others haven't. Check the product description below for guaranteed compatibility. Just because it doesn't mention it, this does not mean it will not work with the
Steam Edition
.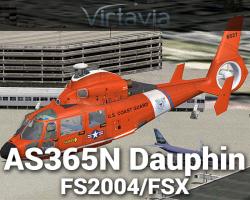 Media Format

Immediate Download

Compatibility

Microsoft Flight Simulator X & Microsoft Flight Simulator 2004

File size

50 MB
As a hugely popular aircraft out there, this modification has been well received by those who like to jump into the cockpit of safe, fun and truly enjoyable helicopters. This has been designed using a single-engine AS360, creating the Dolphin in all of its glory.
This new model manages to capture the latest features, with larger gearboxes and engines for improved power. Additionally, it comes with a more luxurious cabin that previously and this manages to create an enhanced level of performance through having larger tail surfaces in general.
This aircraft is one of the most realistic that you are likely to fly in FSX, with a huge depth and range of detail added into almost every section of this aircraft, ensuring it flies as true as it can.
What's Included?
In this package, you will find a range of different things to do and see and this includes eight awesome texture sets created for the Dauphin. This includes textures such as the;
AS365 N1 Swift Copters
AS365 N1 Samaritan Hospital
AS365 N1 Servicio de Urgencias Canario
AS365 N2 French Aeronavale
AS365 N2 N2 MAERSK
AS365 N2 Hellenic Coast Guard
AS365 N2 Royal Navy
AS365 N2 US Coast Guard (fictitious)
Key Features
Incredibly realistic flight dynamics that manage to really capture the aim and the depth of the aircraft, giving you a much better idea of just how useful it was up in the air. Its prowess as a chopper and the fact it's so easy to handle can be made apparent with this mod

You'll get to make use of its incredible range of detail across each model, both inside and outside of the cockpit. Each section is managed and looked after in the correct way, following a very specific range of research that has taken many hours to put together

2D panels are not provided in this remake of the brilliant Dauphin AS365N, thanks to the incredible level of depth and detail that is carried out in each of the cockpits through the virtual cockpit and 3D gauges and panels, providing you with massive levels of authenticity

In this package you get access to two unique versions of the aircraft, with a rescue equivalent designed as a MedEdvac added in as well as a VIP transport equivalent that looks outstanding. Each models carries each and every detail possible, making them a true delight to fly around in

The depth and detail of the cockpit knows no bounds, either. Unique additions such as a checklist and a reference list are included in there just as any real pilot would have. It looks brilliant when managed carefully, and gives you all the help you need in finding your feet

The quality of the images and the detail is only matched by the incredible sounds that are added in. each of the sounds included feature in both startup and shutdown, but they also manage to create various high detail sounds that are absolutely incredible to hear as you fly around

The virtual cockpit adds a fine layer of usability to this aircraft, making it nice and simple taking off into the air with thanks to the range of details that are included in the package itself. These realistic features include all of the ratios on-board in a classic 3D design

This is topped up by the stunning array of features that are animated and fully controllable. This virtual cockpit is made to really give you a taster of what it can be like using something like this, ensuring that you can get much better at handling even severe emergency situations

Each gauge that has been included and added into the cockpit has been done with a clear use and a reason for its existence – this makes it nice and simple to wrap the whole thing up together and make the entire aircraft looks presentable as it can when you're flying

The simulated weather radar looks brilliant and when you start to use it correctly you can find that flying around with the aircraft becomes a lot simpler. Now, you can prepare and preempt what is coming towards you with the weather and how you can best prepare for this happening

Realistic crew figures have been added in that all walk around and will give you a bit of an extra quality of detail into the aircraft .these crew members will stand guard over each section of the flight, giving you total control over what's happening whilst feeling you've got backup!

Additionally, opening cockpit and cabin doors are included that make it simple for the whole place to feel a bit more alive. You'll get to really feel the atmosphere and the depth of the entire location come to life when you are seeing this brilliant part of the aircraft unfold

The MedEvac version comes with a hugely detailed and extremely useful animated winch that you can really help to sue to differentiate between the two, as if the design was not enough! This package is well worth having installed as its very easy to use and provides an easy solution

Got a creative side to you? Then why not try and recreate the designs of the real aircraft? You'll find that with this software the files are available for repainting and editing within PhotoShop. Fully editable files are included that will help you become a much better pilot in time
Submit a review of this product
Customers Also Purchased