This addon is compatible with
Microsoft Flight Simulator X
. It should also work with
Microsoft Flight Simulator X: Steam Edition
. Some developers have explicitly stated compatibilty with Steam Edition but others haven't. Check the product description below for guaranteed compatibility. Just because it doesn't mention it, this does not mean it will not work with the
Steam Edition
.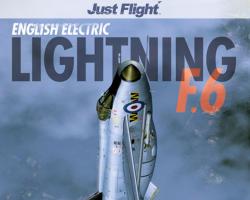 Media Format

Immediate Download

Compatibility

Microsoft Flight Simulator X

File size

303.7 MB
As an aircraft respected for all of the right reasons, the English Electric Lightning F6 often makes a fun aircraft for enthusiasts to take to the skies in.
This old-school fighter aircraft was capable of delivering a whopping climbing rate of 50,000ft per minute and was one of the highest performing aircraft of its era.
Now, you can try it out for yourself and see just how much of a challenge it is to handle something with the raw power and ferocity of the English Electric Lightning F6.
Part of what makes this aircraft really impressive is that it has so many small touches included. While all major features are included, small features on the model and within the cockpit contributes to a much richer, more harmonious experience overall.
Powered by a pair of exceptional Rolls Royce Avon engines, the F6 delivers a challenging flight that veterans will grow to love.
It's like being saddled to a rocket in many ways: the untamed speed and immense ferocity of the EE Lightning F6 is quite hard to believe at times.
The virtual cockpit has been created with immense detail and precision despite a paucity of useful information out there. this allows for a cockpit experience that feels very much like a Cold War-era aircraft, with low glare and the dark-gold style favored of the ear included.
Also, just about every switch, knob, button, and a lever is in the right location and is fully functional. This allows you to easily deploy a braking chute, easily activated via the keyboard or the cockpit.
Alongside other extras like a fully working radar scope and with seven historically accurate liveries, this is a faithful recreation of a very important aircraft that has, for many years, captured the imagination of military aviation enthusiasts.
What's New?
An immersive take on the EE Lightning F6 aircraft, with F6 and F53 models included for added variety.
Numerous new surfaces animated and improved, from airbrakes and hatches to moving doors and landing gears. Landing gear as accurate as is possible.
A new and improved virtual cockpit that comes with a fully operational radar scope and numerous new functioning switches and levers.
Operational gauges including tracking, radar and radio equipment – including NAV/TAC dial displays.
Better night lighting for included instruments and panels, making a huge difference to performance.
Segmented tailhook and switchable ground power unit included alongside various other ground equipment such as probe sheaths and a tie-down cockpit cover.
New over-wing fuel tanks included, and easily selectable as you fly.
Cockpit canopies included and fully textured to create the low-glare style often favored by F6 pilots.
New Red Top missiles and ADEN gun pods included alongside SNEB rocket packets on the F53 variation. Collimated gun sights included.
New accurate modelling of the ejection seat included (not functional).
Rich work and design are done on all textures and aircraft features to vastly improve visual detail.
Distinctive airspeed indicators on the 3D gauges allow for easier control of flight speeds.
Newly operational autopilot ensures that you can easily fly in link with ILS and TAC displays as needed.
DME, NAV, ADF and transponder suits added in.
New engine selector switch, start, re-heat, and engine cut controls included when needed.
Functional annunciator banks for all of your major engine systems and similar issues.
The authentic tachometer will indicate any spool-up for pre-start motors.
What's Included?
Immersive flight dynamics to help make sure that the whole aircraft feels as realistic as possible to fly.
Creative lighting effects and other animation to help add to the richness and charm of the cockpit as well as improve visibility.
Fresh new audio systems set up to help make sure the dual Rolls-Royce engines within can be heard roaring as you fl.
A bespoke PSD paint kit that allows you to make up your own liveries should you so choose (Adobe Photoshop required).
Also, you get access to seven epic liveries, all designed to match up with real-life uses of the aircraft such as the Royal Air Force and Royal Saudi Air Force. These liveries include:
XR770 'AA' – RAF 5 Squadron (red tail)
XR728 'JS' – RAF Lightning Training Flight
XS901 'AH' – RAF 5 Squadron (camouflage)
XR752 'Y' – RAF 111 Squadron
XS903 'BA' – RAF 11 Squadron
XS895 'H' – RAF 74 Squadron
53-689 'J' – Royal Saudi Air Force (Mk.53)
Submit a review of this product
Customers Also Purchased