EA-6B Prowler for FSX/FS2004

1 reviews

This addon is compatible with
Microsoft Flight Simulator X
. It should also work with
Microsoft Flight Simulator X: Steam Edition
. Some developers have explicitly stated compatibilty with Steam Edition but others haven't. Check the product description below for guaranteed compatibility. Just because it doesn't mention it, this does not mean it will not work with the
Steam Edition
.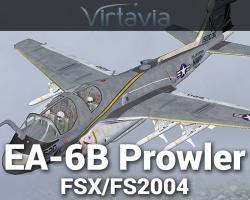 Media Format

Immediate Download

Compatibility

Microsoft Flight Simulator X & Microsoft Flight Simulator 2004

File size

86 MB
Features -

- FOUR model variations with SIX detailed texture sets :

1. US Marines VAQ-129, Whidbey Island, 3 pods 2 tanks
2. US Navy VAQ-131, 2 x AGM-88, USS Kitty Hawk
3. US Navy VAQ-132, 5 x ECM pods, USS Dwight D. Eisenhower
4. US Navy VAQ-134, 4 x AGM-88 HARM, USS Enterprise
5. US Navy VAQ-135, USS Nimitz, 3 pods 2 tanks
6. US Marines VMAQ 1, 2 x AGM-88 HARM

- full FSX model with all FSX features (bump mapping, self-shadowing, bloom etc)
- FSX model includes V-C SELF-SHADOWING (effect requires FSX SP2)
- HIGHLY authentic virtual cockpit with animations and mousable controls
- stunning realistic texturing with highly detailed weathering
- detailed and authentic weapons loadouts - can be switched around by simple cfg editing
- FSX model includes fully modelled REAR COCKPIT with working moving map and radar
- working radar also usable in 2D panel as popup (FSX)
- v-c night lighting
- authentic all-xml 2D panel, hi-res glazed-effect gauges, custom pop-ups for ECU, autopilot and radios, fully mousable
- includes specific payload entries in the cfg so custom weights can be programmed (default is no payloads)
- detailed checklist and performance that precisely matches that of the real aircraft
- custom effects for turbine glow (3-stage), smoke (startup & in-flight), wingtip and flap contrails and wing surface vapour 'flash'
- high quality soundset included
- togglable realistic pilot figures
- animated canopy and entry steps
- animated wingfold, tailhook, spoilers etc
- v-c rain effects (FS9 only)
Customer Reviews
Rated 5.0/5.0 based on 1 customer reviews
11/06/2015

5

/

5

The Prowler was an aircraft that I actually had some persona dealing with back in the day for an aviation review panel back home, so it was really fun to actually hop into the cockpit and try it out properly. The thing that I enjoyed the most about this remake of the Prowler was just how accurate the cockpit was – they got the design absolutely spot on.

The aircraft model also carries all of the real hallmarks of the aviation system itself, giving you an authentic virtual cockpit that looks excellent and gives you fluid animations, easy to work controls and a design model that really will help you buy into the realism of this design.

What is most impressive, though, is the way that this package manages to really give you an easy way to fly something so incredibly powerful. With the help of a detailed checklist that will give you a way to fly around and feel safe when using this bad-boy, you should have no problems at all in just making sure the flight goes according to plan.

Add in the brilliant VC night lighting packages and patterns, and you have no problems waiting for you when flying this as it's just so easy to command and control. If you are into military aviation and want to see what kind of designs are styles are available in some of the older craft than come and try out the Prowler – I think everyone will enjoy flying with this.
Submit a review of this product
Customers Also Purchased