A-3B Skywarrior for FSX/FS2004

1 reviews

This addon is compatible with
Microsoft Flight Simulator X
. It should also work with
Microsoft Flight Simulator X: Steam Edition
. Some developers have explicitly stated compatibilty with Steam Edition but others haven't. Check the product description below for guaranteed compatibility. Just because it doesn't mention it, this does not mean it will not work with the
Steam Edition
.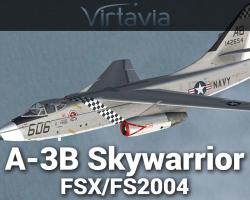 Media Format

Immediate Download

Compatibility

Microsoft Flight Simulator X & Microsoft Flight Simulator 2004

File size

27 MB
Douglas A-3B Skywarrior
The A-3B Skywarrior was the largest carrier-based aircraft of its time, designed to operate from the Forrestal-class supercarriers. Intended as a strategic attack aircraft, the Skywarrior was designed for long range, with a thin, high-aspect ratio wing. Recon, ECM, and tanker versions were also built, with the EKA-3B combination ECM / tanker remaining in service up to the time of the first Gulf War. The length of the Skywarrior's service life is a testament to the soundness of the original clean, efficient design.

For FS2004 and FSX (portover)

Features

SIX models : A-3B, EA-3B, KA-3B, RA-3B, EKA-3B and ERA-3B
THIRTEEN high-detail texture sets :
A-3B, VAQ-133 #610 "Wizzards", USS Kittyhawk
A-3B, VQ-1 "WORLD WATCHERS" n° 111, Nas AGANA, Guam, mid 80's
EA-3B VQ-1 "WORLD WATCHERS" USS Ranger
EA-3B VQ2 "BATMEN",Rota NAS, Spain, early 90's.
KA-3B VAH-11 "Checkertail"
KA-3B VAH-4 "Fourrunners"
RA-3B, VAP-62, SE Asia, late 1960's
RA-3B VAP-61, Agana, Guam, Aug. 67
RA-3B VAQ-33 "Firebirds" low vis
EKA-3B VAW-13 "Zappers"
EKA-3B VAQ-135 "Black Ravens"
ERA-3B VAQ-34 "Aggressors"
ERA-3B VAQ-33 "Firebirds" high vis

authentic virtual cockpit with animations and mousable controls
complete crew area included in v-c
highly authentic flight model with checklist
animated bomb bay with textured interior
animated folding wings
v-c rain effects
authentic undercarriage structure and animations
authentic 2D panel with 100% xml gauges, custom pop-ups, fully mousable with night illumination
panel includes animated yoke and throttles
soundset included
crew togglable on wingfold anim
leading edge slats operate automatically, distinct from flaps
KA models have extendable refuelling hose
cockpit overhead escape hatch
wing spoilers correctly animated as spoilerons
V-C includes all external model parts which would be visible
automatic smoke and wingtip vortex FX
Note : FSX version is a straight portover of the FS9 version, so NO self-shadowing, bump etc
Customer Reviews
Rated 5.0/5.0 based on 1 customer reviews
11/06/2015

5

/

5

The SkyWarrior is an aircraft that Iíve always had an eye on for various reasons, not least because it was at one stage the largest carrier aircraft of all time, which I thought was really interesting. As a bit of an aviation geek itís these little things that make all the difference to me and with this package I found it easier than ever to just buy into the story and the format of this aircraft in particular.

The whole look and feel of this design and package in general made it easy for me to buy into the idea in the first place but as soon as I got to grips with the way that it flew etc. I soon had no problems at all messing around in such a delicate and unique aircraft.

One thing that really impressed me about the whole thing, though, was the way that it handled itself in the air. Many aircraft like the Skywarrior can be a bit too hard to fly but this makes it easier than ever to help you get to grips with the rather rambunctious nature of the model. With all of the excellent texture sets as well I had my pick of what I wanted to fly around in and how I wanted the world to unfold around me.

This made it much easier than ever to start flying around with confidence which is what I usually lack, so thanks for making this so easy to actually fly!
Submit a review of this product
Customers Also Purchased