A-3B Skywarrior for FSX/FS2004

2 reviews

This addon is compatible with
Microsoft Flight Simulator X
. It should also work with
Microsoft Flight Simulator X: Steam Edition
. Some developers have explicitly stated compatibilty with Steam Edition but others haven't. Check the product description below for guaranteed compatibility. Just because it doesn't mention it, this does not mean it will not work with the
Steam Edition
.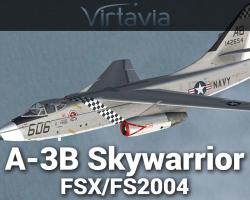 Media Format

Immediate Download

Compatibility

Microsoft Flight Simulator X & Microsoft Flight Simulator 2004

File size

27 MB
Built as one of the biggest changes to carrier-based aircraft of the era, the A-3B Skywarrior is still a reference point for military aviation today.
Seen as a fine example of what top quality performance should look like, this helped to phase out the Cold War-era AJ-2 Savage. This aircraft was the ideal replacement, bringing a fine range of strategic attack strategies to its owner. With the help of this aircraft, pilots in FSX/FS2004 can finally try out what a Skywarrior would feel like to fly.
Complete with unique liveries and various model variations, this package gives you everything you need. Itís a faithful recreation of the model, with the thin and high-aspect-ratio wings included with beautiful detail.
Capable of various roles in and out of combat, such as Recon and ECM, the A-3B Skywarrior played many roles in the theatre of war. This aircraft was used up until the beginning of the Gulf War when it was slowly phased out by military personnel.
The fact it was used for so many years, though, just goes to show just how impressive the aircraft was. Far from being discontinued due to issues, it was merely modernized and improved upon. For pilots wishing to try out a proper piece of aviation warfare history, then, give the A-3B Skywarrior a try!
Key Features
A highly impressive take on the model, complete with internal and external texture works.
Animations built from scratch for everything from the wings to the bomb bay doors.
New and improved Virtual Cockpit included with 100% mouseable controls.
High-quality effects included for the Virtual Cockpit, including rain effects.
Authentic detailing of the animations and the undercarriage structure of the A-3B.
Improved panels with animated yoke and throttles for you to use.
New and improved XML-managed 2D panel with fully working pop-ups and illumination.
The brand new crew included with the right kind of aviation attire for the era.
It comes with a new and improved sound set with sounds based on the A-3B itself.
Leading-edge slats will work automatically, ensuring they are distinct from flaps.
KA models come with a refueling hose that can be used when needed.
The cockpit comes with a realistic escape hatch installed overhead.
External model parts fully visible and where they should be in the cockpit.
Automatic smoke and wingtip vortex effects included.
Whatís Included?
In total, users can expect an impressive six models to be included as part of the package. These models include the: A-3B, EA-3B, KA-3B, RA-3B, EKA-3B and ERA-3B. Each model of the A-3B Skywarrior played a role in helping to further develop and enhance its reputation. However, you will also receive thirteen high-end texture packages. These new textures all are built on real-life liveries, and include;
A-3B, VAQ-133 #610 "Wizzards", USS Kittyhawk
A-3B, VQ-1 "WORLD WATCHERS" nį 111, Nas AGANA, Guam, mid 80's
EA-3B VQ-1 "WORLD WATCHERS" USS Ranger
EA-3B VQ2 "BATMEN",Rota NAS, Spain, early 90's.
KA-3B VAH-11 "Checkertail"
KA-3B VAH-4 "Fourrunners"
RA-3B, VAP-62, SE Asia, late 1960's
RA-3B VAP-61, Agana, Guam, Aug. 67
RA-3B VAQ-33 "Firebirds" low vis
EKA-3B VAW-13 "Zappers"
EKA-3B VAQ-135 "Black Ravens"
ERA-3B VAQ-34 "Aggressors"
ERA-3B VAQ-33 "Firebirds" high vis
Customer Reviews
Rated 4.0/5.0 based on 2 customer reviews
11/06/2015

5

/

5

The SkyWarrior is an aircraft that Iíve always had an eye on for various reasons, not least because it was at one stage the largest carrier aircraft of all time, which I thought was really interesting. As a bit of an aviation geek itís these little things that make all the difference to me and with this package I found it easier than ever to just buy into the story and the format of this aircraft in particular.

The whole look and feel of this design and package in general made it easy for me to buy into the idea in the first place but as soon as I got to grips with the way that it flew etc. I soon had no problems at all messing around in such a delicate and unique aircraft.

One thing that really impressed me about the whole thing, though, was the way that it handled itself in the air. Many aircraft like the Skywarrior can be a bit too hard to fly but this makes it easier than ever to help you get to grips with the rather rambunctious nature of the model. With all of the excellent texture sets as well I had my pick of what I wanted to fly around in and how I wanted the world to unfold around me.

This made it much easier than ever to start flying around with confidence which is what I usually lack, so thanks for making this so easy to actually fly!
08/26/2019

3

/

5

The RA-3 model is incorrect -the Virtavia RA-3 is an ERA-3 airframe essentially.

The actual RA-3B was very similar to the A-3B in overall shape, no extended rear fuselage, no pylon pods, but had camera sponsons on lower side fuselage, several camera ports on bottom forward under the cockpit / forward bomb bay area, one porthole for outside view on each side.

Other models are very good.
Submit a review of this product
Customers Also Purchased