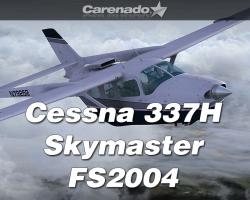 Media Format

Immediate Download

Compatibility

Microsoft Flight Simulator 2004

File size

89 MB
Carenado have developed a fantastic model of the C337H Skymaster available for Microsoft FS2004. This interesting aircraft features an uncommon push-pull configuration that utilizes two propellers mounted at the front and back of the aircraft. It's an attractive aircraft suitable for pilots of any caliber and certainly one worthy of Carenado's magic touch, making it fit for the skies of our favorite simulators.
The advanced model is made up of 115,000 polygons to achieve maximum detail, but it won't put any unnecessary strain on your computer and wont affect your frame rates. The C337H Skymaster is a very lively aircraft, with lots of moving parts and animations. The landing gear, for instance, goes through several stages to completely extend or retract. It seems there is always something to catch your eye, whether it be the rear mounted propeller or the subtle rumbling and rattling of the exhaust pipes. Never a dull moment with this one. Accompanying would could be classed as two separate models, choosing between either one 3D modeled pilot or two, are five unique liveries that highlight the unusual shape of this aircraft, and offer some nice color variations. On top of that, a blank texture is included for you to use as a base plate should you want to create your own personalized repaints.
Views out of the large cockpit windows offer spectacular views and provide a nice contrast to the fully loaded cockpit panel. The clean black panel houses numerous 3D gauges and a GNS530. Reflection and transparency can be adjust through a custom panel, allowing you to fine tune your visuals as you see fit. Enough light comes in through the windows to keep the cockpit well lit, but the realistic night light effects add greater depth to its 3D elements and keep gauges visible and clear as natural light fades.
Tested by real Skymaster pilots, Carenado have made sure to craft a truly authentic experience. Flight dynamics have been meticulously tweaked to create behavior that accurately represents that of the real thing. Performance, handling, weight and balance all blend together seamlessly. When paired with an original high quality sound set recorded straight from this Skymasters real life counterpart, you're left with an astonishing true to life sensation.
Special Features:
Best FS2004 aircraft ever modeled.
AvSim Gold Star award aircraft for FSX
Features:
115,000 polygons without harming performance (friendly FPS)
3D gauges.
Original HQ digital stereo sounds recorded directly from the real aircraft.
Carenado GNS530 installed.
Customizable panel for controlling windows transparency, instrument reflections and static elements such as wheel chocks and sights props.
Pop up C337 Skymaster manual with normal, emergency checklist and performance tables.
Tested by real Skymaster pilots.
Realistic night lights effect on gauges and virtual cockpit.
Interactive virtual cockpit.
Full moving parts: Ailerons, elevators, rudders, flaps, rolling wheels and trim tab
Animated sections such as: propeller, doors, windows, sunvisors.
Lights: Navigation lights, landing and taxi lights.
3D modeled pilots, cockpit area and passenger cabin area.
Separate switches for instruments lights and cabin light.
Toggle yoke.
Real behavior compared to the real airplane.
Real weight and balance.
Included in the package:
5 paint schemes.
1 Blank texture.
2 models (one pilot and two pilots).
Normal and Emergency Procedures - Performance tables PDF.
Quick reference table PDF.
Operations Tips PDF.
Carenado GNS530 Users Guide PDF.
Review
Carenado's flight dynamics are the most realistic of any aircraft in FS. I love just how the aircraft's simulated struts extend and retract when I touch down. This aircraft is very animated! A++ - AirdailyX
Submit a review of this product
Customers Also Purchased