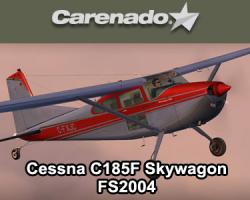 Media Format

Immediate Download

Compatibility

Microsoft Flight Simulator 2004

File size

83 MB
Carenado's team have created a wonderful model of the well respected and iconic C185F Skywagon for use in Microsoft FS2004. This single engined, general aviation light aircraft first flew in 1960 and unfortunately, didn't make the cut when Cessna reinvented some of its more favored aircraft. With this top quality package offering well crafted details and a true to life flying experience, Carenado have certainly changed that.
Created using a polygon optimized model, this C185F Skywagon has smooth edges and an overall level of detail that is among the best for aircraft add-ons of this type. Offering great detail with minimum negative impact on performance, you need not worry about your frame rates dropping. Textures with specular lights and alpha technology create some very attractive shines and reflections that help the aircraft to look all the more realistic; the aluminum alloy body of the C185F reflects the light from the environment and the aircraft lights.
This package includes four different models and four unique liveries, so you have a lot of customization options. Choose between models with and without fairings, and either a two or three bladed propeller. The liveries are all in different colors and mirror that of original designs from that era and high quality digital stereo sounds recorded from the original aircraft compliment the authenticity of the aircrafts visuals.
The interactive virtual cockpit is 3D modeled and is packed with all original instruments and autopilot. The large sloped windows come with some great views and frame nicely next to the dark gray panel used to house the numerous gauges and equipment. Interior lighting and panel lighting can be toggled separately, allowing you to enjoy the night light effects on the panel without having to light up the whole cabin. Carenado have thoughtfully included incredibly in depth PDFs of all relevant information, including normal and emergency procedures and operation tips, that can be accessed through a useful pop up menu from within the virtual cockpit.
Flight dynamics have been very carefully fine tuned to reflect the behavior and performance of the real aircraft, even down to its weight and balance. Alongside a host of moving parts and animated sections, this C185F Skywagon is both an authentic and visually compelling aircraft to fly.
Features
Four different paint schemes and 4 models: with and without fairings, side windows on both sides and two & three blades prop
Polygon optimized model
Friendly FPS
Original HQ digital stereo sounds recorded from the original aircraft - (wheel chokes, bag & package, pitot cover, sights prop and tiedown ropes)
Autopilot installed
Pop up Skywagon manual with performance charts and normal & emergency procedures
Original instruments
Includes
Interactive virtual cockpit
Full moving parts: Ailerons, elevators, rudders, flaps, rolling wheels and trim tab
Animated sections such as: propeller, doors, windows, sun visor, air vents, cowl flaps, pilot
Lights: Navigation lights, landing and taxi lights - Transparent windows
3D modeled pilot and cockpit area
This model doesn't have a 2D panel
Realistic light effects on gauges
Nightlight effects on panel
Built-in zoom gauges
Separate switches for instruments lights and dome light
Toggle yoke at VC
Real behavior compared to the real airplane
Real weight and balance
PDF documents: C185 history, operation tips, reference and owner's manual
Review
"The Carenado C-185F is without a doubt the most realistic and highest quality rendition of this venerable aircraft to date. Their industry leading documentation includes a well developed and comprehensive owner's manual accessible from the cockpit, and the full history on the C-185 in a beautifully created PDF." - Avsim
Submit a review of this product