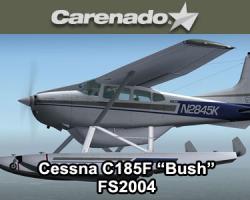 Media Format

Immediate Download

Compatibility

Microsoft Flight Simulator 2004

File size

92 MB
One of the most exciting and challenging forms of flight is bush work. Brave pilots take on the worst conditions to deliver critical cargo and personnel anywhere in the world.
Now you can take part in this perilous pastime by adding the Carenado Cessna C185F Skywagon "Bush" for FS2004 package to your flight simulator software.
The Cessna C185F is a rugged, versatile machine. It can be equipped with floats for water landings or skis for wintertime work. This add-on is exclusive to the Flight Simulator 2004 version and offers a remarkable level of realistic detail. You can customize your aircraft in a myriad of different ways in order to create a never-ending supply of true-to-life flying experiences.
The interactive visual cockpit controls all the moving parts, from ailerons and flaps to the sun visor and full lighting suite. The Skywagon package includes HQ digital sounds recorded in the actual aircraft for a deeper level of authenticity.
Imagine soaring over tundra or the northern lakes with complete horizon-to-horizon vision in day or nighttime. The controls respond exactly like the real aircraft as you set up for a lake approach or rough terrain landing, with true weight and balance as well as a completely-detailed control panel.
If you get stuck, the software offers a pop-up Skywagon manual with normal and emergency procedures, performance charts and the owner's manual, so you're never at a loss. If you need a break, engage the built-in autopilot and plot out your next move.
This stand-alone add-on to Flight Simulator 2004 doesn't require the earlier Cessna C185 package – you can plug it in and start flying through the most rugged and scenic terrain in the world in just minutes. It feels so real you'll be surprised when you look out the window of your home and don't see snowdrifts or a serene mountain lake.
Manufacturers Description
The amazing C185F Bush aircraft from Carenado is now here for Microsoft Flight Simulator 2004. The aircraft is a stunning representation of the Cessna C185F with many great features included for ultimate realism in your simulation.
ONLY FOR FS2004. C185F SKYWAGON BUSH.
Four different models:
Amphibian, Float (with and without window door), Ski (with and without window door) and Tundra.
Control window for controlling eye candies (Cargo Pod, Wheel chokes, boxes& packages, Pitot cover, Sights prop and Tiedown ropes).
This is a standalone package (it doesn´t require the C185F package)
Polygon optimized model
Friendly FPS
Original HQ digital stereo sounds recorded from the original aircraft
Autopilot installed
Pop up Skywagon Manual with performance charts and normal & emergency procedures and Owner's Manual Supplement (OMS)
Original instruments
Includes:
Interactive virtual cockpit
Full moving parts: Ailerons, elevators, rudders, flaps, rolling wheels and trim tab
Animated sections such as: propeller, doors, windows
sun visor, air vents, copilot seat, vibrating antenna, cowl flaps, pilot, engine and exhaust pipe
Lights: Navigation lights, landing and taxi lights
Transparent windows
3D modeled pilot and cockpit area
This model doesn't have a 2D panel
Realistic light effects on gauges
Nightlight effects on panel
Built-in zoom gauges
Separate switches for instruments lights and dome light
Toggle yoke at VC
Real behavior compared to the real airplane
Real weight and balance
PDF documents: Operation tips, Reference, Owner's manual and Owner's Manual Supplement
Submit a review of this product
Customers Also Purchased