Cessna C185F Skywagon for FSX/P3D

2 reviews

This addon is compatible with
Microsoft Flight Simulator X
. It should also work with
Microsoft Flight Simulator X: Steam Edition
. Some developers have explicitly stated compatibilty with Steam Edition but others haven't. Check the product description below for guaranteed compatibility. Just because it doesn't mention it, this does not mean it will not work with the
Steam Edition
.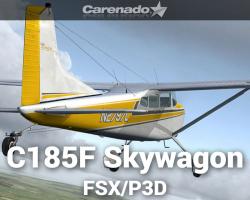 Media Format

Immediate Download

Compatibility

Microsoft Flight Simulator X inc. Steam Edition and Prepar3D v2, v3, v4, v5*

File size

125 MB
*Fully compatible with P3Dv5 however please follow the installation instructions here.
This stunning Cessna C185F package from developer Carenado for FSX will not disappoint you. It has an extensive list of features unique to FSX and with DX10 support, this aircraft delivers the highest detail. It includes external dynamic shadows, internal dynamic shadows on VC, volumetric normal mapping, specular mapping and bloom lights all with friendly FPS. It also features HD stereo sounds recorded from the original aircraft.
The download also comes complete with a fully functioning autopilot installed, pop-up Cessna Skywagon manual and controls for things such as wheel chokes, bag & package, pitot cover, sights prop and tie-down ropes.
Features
Interactive virtual cockpit
Full moving parts: Ailerons, elevators, rudders, flaps, rolling wheels and trim tab
Animated sections such as: propeller, doors, windows - sun visor, air vents, copilot seat, vibrating antenna, cowl flaps, pilot, engine and exhaust pipe
Lights: Navigation lights, landing and taxi lights
Transparent windows
3D modeled pilot and cockpit area
This model doesn't have a 2D panel
Realistic light effects on gauges
Nightlight effects on panel
Built-in zoom gauges
Separate switches for instruments lights and dome light
Toggle yoke at VC
Real behavior compared to the real airplane
Real weight and balance
PDF documents: C185 history, operation tips, reference and owner's manual
Liveries Included
White/yellow
Metallic silver/red
Red/white
White/green
Custom Panel and Gauges
High quality virtual cockpit
New feature - Control windows for the following features: wheel chocks, bag & package, pitot cover, sights prop and tie-down ropes
Pop-up Skywagon manual with performance charts and normal & emergency procedures
Separate switches for instruments lights and dome light
Autopilot fitted
Original radios and instruments
Built-in Zoom gauges
Realistic light effects on gauges
Night light effects on panel
Yokes can be shown/hidden by mouse click
Pilot, copilot and passenger views.
Animations
Ailerons
Elevators
Rudder
Flaps
Trim tab
Rotating wheels
Operating doors
Animated Sun Visors
Vibrating radio antenna
Air vents
Co-pilot seat
Engine and exhaust pipe
Review
"The work horse of the back country, go to Alaska and this will be the daily station wagon used. Probably one of the finest looking Cessnas ever except for maybe the 195. As usual Carenado has produced the best tail dragger GA sim you can buy..." - FlightSim
"Carenado did a great job with this Skywagon. The Skywagon was one plane that FS did not have for a long time. Now carenado has completed one with high detail. It flies very well, especially because of the 300hp engine." - FlightSim
Customer Reviews
Rated 3.0/5.0 based on 2 customer reviews
01/23/2015

5

/

5

There is no shortage of great Carenado products, and their Cessna C185F is yet another brilliant addition to that list. This Skywagon is available to users of Microsoft's Flight Simulator X and would make a great addition to anyone's virtual hangar. Housing a 300hp engine and receiving Carenado's special treatment, this iconic tail dragger looks as good as it flies.

It will be of no surprise to anyone that is familiar with Carenado products, that this Cessna C185F looks fantastic. Utilizing volumetric normal mapping and specular mapping, as well as dynamic shadows both inside and out, Carenado have delivered an overall level of detail that is extremely high, and all while keeping the entire add-on frame rate friendly. This is particularly evident on the metallic silver and red livery, which is one of the four available. It is always appreciated when we don't have to sacrificial performance to get a great looking aircraft.

Looking great in the hangar is one thing, but looking great in the air is another, and this Skywagon ticks both of those boxes. A full range of smooth and responsive animations, paired with really realistic lighting effects, including beautiful bloom lighting, comes together to create a visually authentic and compelling aircraft model.

Performance wise, you can really feel the pull of that 300hp engine. The weight and balance of this Skywagon feels as close to the real thing as you can feasibly get, and the effect is even more prominent from inside the interactive and fully 3D cockpit. With subtle reflections on the windows and night light effects on the panel, the experience inside the cockpit is very atmospheric. With the ability to easily toggle the yoke, you can easily interact with the rest of the cockpit while staying in the zone and enjoying the experience to the fullest.

The virtual cockpit also features a pop-up manual that contains performance charts as well as normal and emergency procedures, so you don't have to mess around with any hard copies, or minimize FSX to reference them elsewhere. It's a nice addition that makes it very easy to completely immerse yourself in the experience.
10/26/2015

1

/

5

Verified Purchase

Awful. The Cl 185 aircraft loads up ok. However, non of the navigation instruments work. The attitude indicator, compass etc, is also non functional. Non of the shift commands work for the pop up displays. There is, I understand, a comptability issue with FSX Steam Editon for some add ons. I doubt I will be buying any more add ons l I would like a refund on this purchase, but there is no chance of that
Submit a review of this product
Customers Also Purchased