This addon is compatible with
Microsoft Flight Simulator X
. It should also work with
Microsoft Flight Simulator X: Steam Edition
. Some developers have explicitly stated compatibilty with Steam Edition but others haven't. Check the product description below for guaranteed compatibility. Just because it doesn't mention it, this does not mean it will not work with the
Steam Edition
.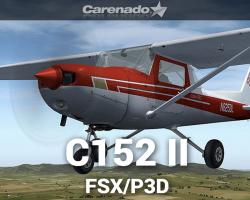 Media Format

Immediate Download

Compatibility

Microsoft Flight Simulator X inc. Steam Edition and Prepar3D v2, v3, v4, v5*

File size

35 MB
*Fully compatible with P3Dv5 however please follow the installation instructions here.
The Cessna C152 II for Flight Simulator X holds many great features to make flying this plane as real as it gets. Key features of this plane include and highly interactive virtual cockpit, various moving parts, realistic lighting and shadowing effects, and much more! In comparisons of this virtual airplane to the real thing, there really are not any differences!
On the interior of the Cessna C152 II doors, the pilotís window, glove compartment, and fresh air control are all animated and allow control from the pilot. The ashtray of this plane is an animated! On the dash of the Cessna C152 II gauges including a working altimeter, fuel gauge, radio, clock, pitch, yaw, landing gear, and so much more. All gauges are also illuminated during dusk and evening flying.
Attention to detail on this plane was definitely a priority in creating this virtual Cessna. The doors and interior trim on this plane completely match the interior on a real Cessna. On the exterior of the Cessna C152 II ailerons, rudders, rolling wheels, and elevators are also completely animated giving the pilot a better idea of what is happening on the outside of the plane when flying with a birdís eye view.
Working exterior lights include navigation lights, beacons, and landing lights, all giving the pilot and better view of where he or she will be landing and helping in the alert of other planes.
Other exterior highlights of this aircraft include antennas, pitot tube cover, chocks, and pitot pressure chamber. Custom panel and gauges of this plane are also included with the download of this aircraft.
The weight, balance, and performance of this plane are also nearly identical to the real Cessna C152 II based on experimented pilot observations and other documentation. Buy the Cessna C152 II today for a one of a kind, realistic flight experience!
Manufacturers Description
Features
Full FSX, P3D v2, v3, v4, and Steam compatible.
Polygon optimized model
Interactive virtual cockpit
Full moving parts: Ailerons, elevators, rudders, flaps, rolling wheels
Animated sections such as: doors, pilotís window, ashtray, copilot seat, glove compartment, sun visor, fresh air control and vibrating antenna
3D modeled pilot and cockpit area
Many details as: pitot pressure chamber, antennas, chocks, pitot tube cover
Custom panel and gauges
Realistic light effects on gauges
Nightlight effects on panel
Similar behavior compared to the real airplane
Real weight and balance
Included in the package:
4 paint schemes
2 models: with and without fairings
Normal and Emergency Procedures PDF
Reference document
Submit a review of this product
Customers Also Purchased