This addon is compatible with
Microsoft Flight Simulator X
. It should also work with
Microsoft Flight Simulator X: Steam Edition
. Some developers have explicitly stated compatibilty with Steam Edition but others haven't. Check the product description below for guaranteed compatibility. Just because it doesn't mention it, this does not mean it will not work with the
Steam Edition
.
Sound Pack Compatibility Note: This sound pack will work with any aircraft model, both freeware or payware in FSX and P3D.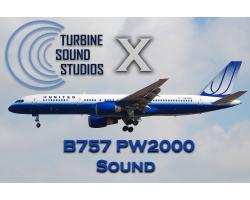 Media Format

Immediate Download

Compatibility

Microsoft Flight Simulator X inc. Steam Edition and Prepar3D (all versions including v4)

File size

79 MB
Turbine Sound Studios presents the Boeing 757 PW2000 soundpack for FSX.
The Boeing 757 engine configs is:
Pratt & Whitney PW 2000 Series
Rolls Royce Trent RB211 Series
The Pratt & Whitney PW2000 is a series of high-bypass turbofan aero engines with a thrust range from 37,000 to 43,000 lbf (165 to 190 kN). Built by Pratt & Whitney, they were designed for the Boeing 757. As a 757 powerplant, these engines compete with the Rolls-Royce RB211.
General characteristics
Type: Turbofan
Length: 141.4 inches (3,592 mm)
Diameter: 78.5 inches (1,994 mm)
Dry weight:
Components Compressor: Axial
Combustors: Annular
Turbine: 8 stage axial
Fuel type: Jet-A Aviation Kerosene
Performance Maximum thrust: 38,400 43,734 pounds-force (171 194.54 kN)
Overall pressure ratio: 27.6-31.2
A special thanks goes to David Parker Brown for his promotion pictures.
THIS PRODUCT ONLY WORKS 100% with FSX.
All engine sounds are recorded in TSS HD audio quality, then compiled to meet the FSX sound specification.
Besides the real high quality recordings of the engines, this soundpack also includes
Custom Stall
Custom Wind
Custom Gear
Custom flaps
Custom Autopilot
Custom Overspeed warning
Custom wheel rumble
Custom touchdown sounds
and ambient cockpit sound, just to bring the experience up, from within the cockpit.
Submit a review of this product