Boeing 747-200/300 HD for FSX/P3D

1 reviews

This addon is compatible with
Microsoft Flight Simulator X
. It should also work with
Microsoft Flight Simulator X: Steam Edition
. Some developers have explicitly stated compatibilty with Steam Edition but others haven't. Check the product description below for guaranteed compatibility. Just because it doesn't mention it, this does not mean it will not work with the
Steam Edition
.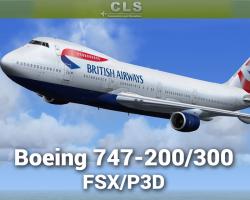 Media Format

Immediate Download

Compatibility

Microsoft Flight Simulator X & Prepar3D

File size

807 MB
For many, the Boeing 747 is the world's most notable and popular aircraft. Anyone who has gone abroad will have no doubt spent time on one of these, as they are such a common selection across the globe today. Given the fact that it made the Boeing Company truly take into exciting new chapters, the aircraft holds a specific place in the hearts of many. It's distinctive design and intricate yet comfortable flying conditions also make it the perfect ally for both pilot and passenger.
The aircraft itself has brought a unique charm to aviation since the 1970s, and since then has gone from strength to strength in various different guises. It has been used in various ways across the world, its constant changes, updates and modernizations ensure that it is never too far from the runway. The extended upper deck and fancy wing designs were, at one stage, a pioneering effort that today many others have used as the basis for their own designs, capturing their look and their feel as perfectly as possibly can be done.
This package does all that it can to bring this positivity, this power and this legacy to life in the most authentic and enjoyable manner possible. By really capturing the depth and the detail of the real thing, this Commercial Level Simulations creation has really managed to make this aircraft look at its very peak. With superb high definition detail included on each and every last part of the aircraft, it's easy to see why it towers above many of its contemporaries. This is made to be user-friendly, simple to use and incredibly effective when needed – if you want to use a truly epic rendition of the 747, you should try out this package.
What's Included?
This has been designed for use with both FSX and P3D, providing you with immense versatility and easy installation regardless

Highly detailed models regardless of what guise you want to take the aircraft under, making it incredibly easy to control and manage the aircraft in the way that you feel fits

57 liveries that all come with realistic, historical designs that have been used in the past along with a paint kit to help you make your own livery designs

50 cockpit sounds that are included, as well as a fully talking First Officer, to keep you on the right track and ensuring that you are capable of completing your objective

Customized engine spray effects and many other unique animations are made to really impress!

3D landing and runway turn-off lights that improve visibility and also will also look fantastic

24 model versions are include throughout, giving you an immense level of choice of what kind of aircraft you want to fly and what attributes you want it to have

Detailed manual that makes it easy to follow the aircraft and get used to its little quirks

Wingview from the interior provides a fresh and engaging perspective on the aircraft

An option for including a pushback truck, if you want to have one included

Air stairs for passenger models to use

A detailed flight deck that manages to capture the right features and the right additions to make flying as easy as possible

Minor details are included in every direction, ensuring that the whole thing can come together just right

Engines are modeled in the right way to make sure they stay true to their real-life counterparts and provide the depth, the detail and the sound that you really need

DX10 compatible so if you are using this with FSX or P3D you should be able to get high levels of performance with this installed
Key Features
Graphical Changes
A whole range of unique models created for the 747-200/300, respectively. Every model that is provided comes with a unique style and shape as well as ensure that it can fit as a passenger, cargo or combo aircraft. Whatever your needs are whatever you want to do, you will find that it's being done in style with this package; it manages to capture a dynamism and a unique shine about the aircraft that really is hard to recreate elsewhere

Operating doors for cargo and passengers have been included, making sure that they open and close in a fluent and realistic manner that looks great. Additionally, stairs are included to make the aircraft really seem the scale that it should have

An XML coded landing gear that will assist the overall level of visual performance that you are getting throughout the process, making the flight much more comfortable for you

A pushback truck that can be toggled on/off

Virtual cockpit that has been created and adjusted to look the very best that it can, capturing the massive attention to detail and level of detail that is needed to make the whole thing tick all the boxes!

High-definition textures are included throughout to make sure that the aircraft would look as fantastic as it can, matching up with the very best out there in terms of depth. This is improved by the impressive dynamic shine that makes the aircraft really look as it would in the real world, adding another glint of realism. The brilliant texture mapping, though, is not just for the looks; it actually manages to optimize the performance at the same time. Instead of watching detail instead of fluidity, you can have a fine mixture of both

57 awesome liveries are included in various forms and shapes, making it incredibly easy to find the style that fits best with what you were looking for or what you had always hoped to fly one day!

An awesome paint kit was added in, as well, to make sure that the aircraft can make its own liveries and also make sure that the aircraft can look Justas you had intended in terms of the overall design. However, you will need some professional editing software such as Photoshop to do this
Professional Effects
Realistic animations are included for everything from the doors as mentioned above to the thrust reverser and the engine fans. This makes it much easier for you to control the aircraft and actually see the things that you do causing a reaction; add in the fact that rudders flaps, elevators and spoilers are all fully animated as well and you are left with a cool looking, authentic piece of hardware that manages to combine the realism and the performance of the original with the depth of detail that you would hope to see fully included

Likewise, the entire system manages to add in a whole range of new special effects that look outstanding. From 3D landing and runway turn-off lights to the custom engine reverser spray giving off the desired effect, you'll find it incredibly easy to find this as realistic as possibly!

Tyre and runway water effects are added so that if you are flying off in the rain you will see the difference on the runway itself

Burning rubber effects are also included to make the whole thing look as realistic as it possibly can throughout, from takeoff to landing again

A massive cloud of engine smoke will descend from the aircraft as it starts to rev up, making the whole thing look even more outstanding than usual

Fire and sparks will also fly out of the underbelly if you over-rotate, which is something you'll see on real aircraft in similar circumstances

A dynamic wing-flex has been included, too, which adds another incredibly detailed and interesting special feature to the aircrafts design

An entire library of unique sounds have been put together to make sure that you get the right sounds for the 747 range, with unique and in-depth recordings used for both to ensure that the aircraft looks and sounds just as it should
Performance Changes
A whole new range of flight dynamics have been built from using many hours of reference content and researching of the real thing. This ensures that you can get professional and approachable settings that make the whole thing fly correctly. In fact, all of these settings have bene tested out using professional FAA simulation requirements to really get that edge and to provide the level of realism needed

To get these specifications right, various other changes have been included throughout. This includes making various location, weight, cargo and fuel specifications for the various models that are included in the package to make each of them have that unique personality, rather than just having a cosmetic change in terms of what was onboard previously

Additionally, various minor performance tunings and tweaking have gone on to make this more faithful to the real thing. It was improved using performance charts as well as authentic and professional 747 pilot feedback, ensuring that it could get as close to the real thing as it possibly can

Different engine mounts and individual FDE for specific aircraft has bene included, ensuring that both the engine and the model of the aircraft themselves bore the level of importance that they should. The engine will be altered in as many ways as possible, even giving off a different level of performance depending on what is onboard the aircraft as you try and take off. You'll need to spend a lot of time looking into this, ensuring that the engine performance and the overall level of performance elsewhere can be matched and balanced as possible

However, everything has been built around using the "True Feel" level of performance that makes such a big difference, giving you a much greater level of proximity with the real thing. Each model that is included in here has been improved, edited and updated to make sure that it fits with the real thing as comfortable as possible and also to ensure that your performance levels never need to dip within FSX thanks to the intense level of detail that's provided here

Not sure how to fly this and make it stick? Then you can rely upon the detailed flight tutorial that will take you through everything from managing the payload and fuel to getting used to flight planning and navigation along the way. This allows you to boost both the performance of yourself and the aircraft itself!

A Flight Management Computer that allows for simple and effective control over things like SIDs and STARs in the database of your simulator. It also allows for things like v-speed calculation, radio and navigation frequency entries and even a waypoint feature. This gives you estimates about everything from the fuel amount that is left over to the progress of the flight in many different ways

An awesome 2D panel has been included full of the instruments that you need to fly this aircraft properly and to give you full control over each and every feature that you could possibly need

Virtual cockpit is also included, full with buttons that work perfectly and give you an easy way to click around and keep yourself well on track as you fly around, ensuring that you can cut out the mistakes and minimize any typical flight problems

Engineer pilots as well as pilot and co-pilot panels are included to make it easy for you to manage and manipulate the aircraft to do as you need

Additionally, you get access to flight engineers stations and overhead, throttle quadrant and radio stack panels that allow for easier viewing and effective management of the aircraft constantly
Included Liveries
747-200 Passenger Model
747-200 with General Electric engines
Alitalia livery
House livery
KLM livery
Lufthansa livery
Martinair livery
Royal Jordanian livery
Singapore livery
747-200 with Pratt & Whitney engines
Air Canada livery
BA (Landor) livery
China Airlines livery
Continental livery
House livery
Iberia livery
Japan Airlines livery
Northwest livery
Qantas (Old) livery
Qantas livery
Transaero livery
Trans World Airlines livery
United livery
747-200 /w Rolls Royce engines
Air New Zealand livery
British Airways livery
Cathay Pacific livery
House livery
Virgin Atlantic livery
747-200 Cargo Model
747-200F with General Electric engines
Air France Cargo livery
House livery
747-200F /w Pratt & Whitney engines
House livery
JAL Cargo livery
747-200F /w Rolls Royce engines
747-200F /w General Electric engines
747-200F /w Pratt & Whitney engines
747-200F /w Rolls Royce engines
747-200M /w General Electric engines
747-200M /w Pratt & Whitney engines
747-200M /w Rolls Royce engines
747-300 Passenger Model
747-300 with General Electric engines
KLM livery
Mahan Air livery
747-300 /w Pratt & Whitney engines
House livery
Korean livery
Travel City Direct livery
747-300 /w Rolls Royce engines
House livery
PIA livery
Qantas livery
747-300 /w General Electric engines
747-300 /w Pratt & Whitney engines
747-300 /w Rolls Royce engines
747-300 Cargo Model
747-300F /w General Electric engines
Atlas Air livery
House livery
Martinair Cargo livery
747-300F /w Pratt & Whitney engines
747-300F /w Rolls Royce engines
747-300F /w General Electric engines
747-300F /w Pratt & Whitney engines
747-300F /w Rolls Royce engines
Customer Reviews
Rated 4.0/5.0 based on 1 customer reviews
06/05/2020

4

/

5

Verified Purchase

Good product, i'd reccomend for anyone wantng to simulate the classic 747s, not to mention, -100 liveries exist for this plane, so you essentially get 3 different planes
Submit a review of this product
Customers Also Purchased