Bell 206 Sound Pack for FSX/P3D

1 reviews

This addon is compatible with
Microsoft Flight Simulator X
. It should also work with
Microsoft Flight Simulator X: Steam Edition
. Some developers have explicitly stated compatibilty with Steam Edition but others haven't. Check the product description below for guaranteed compatibility. Just because it doesn't mention it, this does not mean it will not work with the
Steam Edition
.
Sound Pack Compatibility Note: This sound pack will work with any aircraft model, both freeware or payware in FSX and P3D.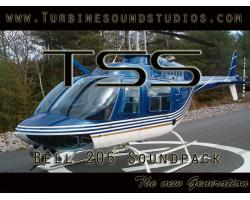 Media Format

Immediate Download

Compatibility

Microsoft Flight Simulator X inc. Steam Edition and Prepar3D (all versions including v4)

File size

30 MB
Part of the challenge faced when flying a helicopter stems from working out what the sounds tell you. FS2004 and FSX users, though, might be used to the lack of intuition provided by the audio experience when using these simulators. With this Bell 206 sound package, though, you can make what is often a fraught experience much easier simply by sharpening up the sounds.
What a helicopter 'says' as much as how it acts will give you a clear indication of its health and performance capacity. If you listen to a helicopter like the Bell 206 struggle, then you should look to find a solution within the cockpit. This add-on for the Bell 206 will make sure that you can always hear it struggle or stutter, meaning that you can act in good time.
To only do these new and improved sounds make it easier for you to spot problems, they also add to the overall ambiance. This is going to make sure that you can get a much more harmonious flying experience, removing any jarring between the sound and the visuals. Given that the JetRanger is an aircraft that takes on numerous important corporate jobs, pilots will really benefit from that added touch of assistance via new sounds
With a better understanding of the sounds that you hear you can more readily prepare for the challenges that your Bell 206 could present during a particular journey. For that reason, we recommend that you try out this sound package from Turbine Sound Studios. It can make what is often quite a lifeless aircraft come to life and feel much easier to fly.
Key Features
New and improved Bell 206 turbine sounds. These make sure that you can quickly react to what the aircraft is telling you mid-flight, making it easier to fly this thing safely.
Better and improved take on the Bell 206 rotor sounds. Instead of the muffled and choppy sounds of the past, this makes them sound as raucous and crisp as they do.
New custom-fitted shutdown sounds will help to make sure that the shutdown experience sounds far more in-line with the real shutdown experience, further adding to the immersion.
Sounds are all naturally recorded from inside the helicopter to make sure that you can get a better level of ambiance and realism from the cockpit.
Better exterior sounds make sure that any third-person flights will be accompanied with the kind of sounds that you would hear from outside the cockpit.
Customer Reviews
Rated 5.0/5.0 based on 1 customer reviews
10/24/2019

5

/

5

Beautiful Helicopter ... !!!! It looks quite real and has excellent colors .... !!
Submit a review of this product
Customers Also Purchased