Beechcraft 390 Premier IA for FSX/P3D

3 reviews

This addon is compatible with
Microsoft Flight Simulator X
. It should also work with
Microsoft Flight Simulator X: Steam Edition
. Some developers have explicitly stated compatibilty with Steam Edition but others haven't. Check the product description below for guaranteed compatibility. Just because it doesn't mention it, this does not mean it will not work with the
Steam Edition
.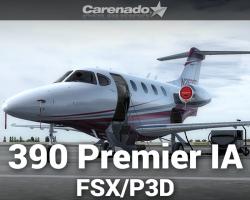 Media Format

Immediate Download

Compatibility

Microsoft Flight Simulator X inc. Steam Edition & Prepar3D (v2/v3/v4)

File size

530 MB
Fully compatible with all versions of Flight Simulator X as well as Prepar3D versions 2, 3 and 4. This take on the Beechcraft 390 Premier IA offers something a little different to what users may be used to. With full access to the Original ProLine 21 systems, including Autopilot, Flight Management, Course Heading & Knob panels, PFD, MFD and DCP options, pilots can enjoy a much more open-ended experience.
Also, making use of the Navigraph can be very easy thanks to the fully updateable nature of the software. You can update the Navigraph to be up-to-date with a few simple clicks.
Worried about performance? This 'Lite' model offers an FPS-friendly solution that provides all the key features you would expect without dwindling FPS.
Note: The Navigraph comes installed up to October 2013; you can update the Navigraph by signing up for the Subscription package.
What's Included?
For one, users can now begin to make use of the ProLine21 System. This gives you access to VNAV and NAV functions, flight plan creation, weather radar screens, situational awareness, traffic analysis and altitude adjustment for various waypoints.
You also get full Navigraph access, with AIRAC Cycle 1310 (October 2013) pre-installed. As mentioned above, you can easily update this with access to a Subscription. Now, you can easily load departures (SID), arrivals (STAR) and approaches WITH EASE.
Alongside the basic model, you get access to 5 HD liveries and a blank HD livery to edit and adjust as you see fit. This helps to improve the visual aspect. Users also get access to 390 Premier IA procedures performance tables and guidance systems in PDF format. There's also a Recommended Settings PDF for use with the aircraft to deliver the best possible return.
Key Features
A whopping attention to detail included with every livery included.
4096 x 4096 textures utilized for the cleanest and sharpest finish available when using FSX or P3D.
A complete recreation of the model without overdoing performance needs; this is a LITE model.
Real ground power units deliver a full volt indication, making it easy for you to manage and better prepare ground power units.
Original HQ digital 3D stereo sounds help to add to the depth and immersion of the overall experience for all.
Complete back cabin comes with various features and additions that help to add to the atmosphere within the cockpit.
Customizable panels give you access to changing window transparency, instrument reflections and static elements being visible or not.
Realistic behavior when compared to a real aircraft. The ideal weight and balance, too, helps to aid realism.
Tested by real pilots to see just how close this take on the Beechcraft 390 Premier IA is.
Better night lighting to help improve visibility no matter the conditions that you try to make a landing within.
Note: This does not come with a 2D panel. You only have 2D window access on PFD, MFD, FMS and Autopilot systems; no other panel is developed in 2D.
Customer Reviews
Rated 3.0/5.0 based on 3 customer reviews
01/08/2018

2

/

5

Verified Purchase

Two reasons for this low rating (I'm usually generous).

Installation: fails to find the FSX Steam directory, so one is left guessing where to install. Uninstall does not remove files, need to clean-up manually. When I was finally able to guess my way into installation, the "BEECHCRAFT 390 PREMIER IA FOR FSX/P3D" which I would have expected in the FSX list of planes under "Beechcraft", was instead to be found under "Carenado" (the list of planes, not the list of editors). So rather shoddy installation experience.

The second point is more a matter of taste, but this package does not have a 2D cockpit, only the "virtual" type. Personally, I only use 2D cockpits, but this is a matter of taste.

A final minor irritant is that the list of Airplane Views appears as View 1 to View 10 with no description as to what it is.
11/29/2017

2

/

5

Verified Purchase

I purchased the Premier 390 for FSX. I immediately had problems with loading the plane. Sometimes it would cause a CTD with a FATAL ERROR message, sometime it would load and then crash. I worked with Carenado Support and tried several of their suggestions, but still was unable to get it to work without constantly crashing. To their credit, Carenado and SimShack gave me a refund.
09/18/2018

5

/

5

Verified Purchase

I'm a paraplegic vet waiting for darkness, I found light ! Went to steam and SimShack. I found light, i'm alive. I'm not an X anymore. I went to Pueblo CO with my Premier 390, everything working perfectly. what a flight. MOST exciting over the land/scape
Submit a review of this product
Customers Also Purchased