Beechcraft 390 Premier IA for X-Plane

1 reviews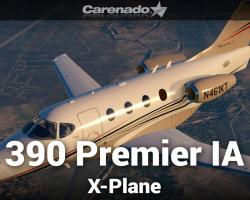 Media Format

Immediate Download

Compatibility

X-Plane 11

File size

450 MB
In the mid-1990s, work began on a new range of aircraft by Raytheon/Hawker Beechcraft. The aim was to create an impressive aircraft for commercial aviation, and in 2001 the Premier I prototype was completed. The aircraft suffered struggling performance at first, with the Premier 1 failing to live up to lofty expectation. Erratic brakes, a poorly designed cabin, a weak cockpit, and a substandard level of performance on the runway led to change.
This meant that the creation of the next edition, the Premier IA, was just around the corner. In 2006, this $7m edition of the aircraft was released, and over 160 were built in a five-year period. Having quickly improved over the performance, cabin, and braking issues of the Premier 1, this helped to change the course of this particular range of Beechcraft aircraft. Still in use today, over 290 of the Premier range have been built – with the IA widely credited with averting an expensive disaster for the manufacturers.
The Premier IA edition of the Beechcraft 390 was a big improvement over the original model that was released in 2001. With the IA edition, new changes were made to make the cabin interior more modern, robust, and comfortable for the pilots. Also, improvements were made to the flight systems to ensure that the Premier IA was suitable for every flight purpose.
Now, you can try out the Beechcraft 390 Premier IA in X-Plane 11. This recreation looks to ensure you can enjoy this 46ft aircraft with all of its strengths and weaknesses intact. For a challenging and rewarding flight with a nice modern twist, try out the Premier IA.
Key Features
A very impressive recreation of the Beechcraft 390 Premier IA aircraft.
4K PBR texture used to help capture the aircraft materials in the right detail.
HDR lighting that comes with 3D lighting and dynamic illumination on ice.
X-Plane 11 optimization to fit with XP11.30 jet engine models.
Pressurisation and oxygen systems included as per X-Plane 11 capabilities.
Dynamic reflections and features included finalizing the visual impact.
Fully detailed and customized annunciator logic, with various VR optimizations.
Comes with a bespoke Proline21 avionics system, including pop-up windows.
FMS system integrated with easy pop-up windows for a simple adjustment.
Autopilot comes with a pop-up window for easy use of the autopilot.
FMOD sound system implemented for the best, most realistic, sound imaginable.
Comes with a custom electrical system, starter logic, bleed air system, etc.
Full compatibility with Goodway.
Full support with RealityXP GTN 750 add-on.
What's Included?
A fully operational model of the Beechcraft 390 Premier IA aircraft.
5 HD liveries and a blank livery for easy adjustment and editing.
Various guides for understanding procedures in any circumstance.
Performance tables and flight guidance systems included for reference.
PDF manuals for use of the Proline 21 system, and the X-Plane FMS system.
Recommended settings guide so that you can get the best performance.
An easy to adjust and edit Manifest.json file.
Full support for major add-ons such as Librain.
Customer Reviews
Rated 5.0/5.0 based on 1 customer reviews
06/22/2020

5

/

5

Verified Purchase

As a retired pilot in real life I started using X-Plane 11 because it gives me a very close feeling to the real thing. few aircrafts behave like their model in real aviation, I found that this aircraft purshaed here with silshack is one of them. I tested it at a friend place and that is why I bought it. Why here at silshck because they always have the best price. As a long time customer I started with MS Flight simulator, then P3dv and now X-plane 11 and pushased some of mu aircarft here. So to make it short I strongly recommand this aircraft the 390 premier 1A and SIMSHACK
Submit a review of this product
Customers Also Purchased