AH-64D Apache Longbow for FSX/FS2004

2 reviews

This addon is compatible with
Microsoft Flight Simulator X
. It should also work with
Microsoft Flight Simulator X: Steam Edition
. Some developers have explicitly stated compatibilty with Steam Edition but others haven't. Check the product description below for guaranteed compatibility. Just because it doesn't mention it, this does not mean it will not work with the
Steam Edition
.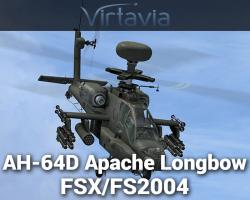 Media Format

Immediate Download

Compatibility

Microsoft Flight Simulator X & Microsoft Flight Simulator 2004

File size

116 MB
The Longbow is a modern development of the unrivalled Apache design. Longbow is characterised by its AN/APG-78 "Longbow" radome installed atop the rotor. The aircraft features more powerful engines in the form of the T700-GE-701C, as well as a glass cockpit and modern systems. The Apache Longbow has also been built by Westland for the British Army, in the guise of the WAH-64 Apache AH Mk 1. The Apache Longbow is operated by many of the worlds major air arms, including the US Army, British AAC and the Israeli Air Force.

For FS2004 and FSX

Features
NINE loadout variants :

clean
8x Hellfire RF & 2x Hydra pods
8x Hellfire RF, 2x Hydra pods & 4 AIM-92 Stinger
16x Hellfire RF
16x Hellfire RF & 4x AIM-92 Stinger
4x Hydra pods
4X Hydra pods & 4x AIM-92 Stinger
WAH-64D with 4x CRV7 & 4x Starstreak
WAH-64D with 4x CRV7

THREE texture sets included:

US Army
Royal Netherlands Air Force
British Army Air Corps

extremely high-quality model, textures and virtual cockpit
NOTE : only 'minimal' 2D panel included ! Check you are OK with it before you buy.
full FSX model available with all FSX features (bump mapping, self-shadowing, bloom etc)
FSX model includes V-C self-shadowing (this effect requires FSX Acceleration DX10 preview mode)
custom automatic stabilator animation (moves according to speed)
realistic soundset, very high quality, by 'TSS'
fully authentic, dynamic range sound set including start-up and shut-down sounds
includes REALGAUGE technology
forward gunner's station included at full detail level in v-c
highly realistic, togglable crew figures
animated TADS and chin cun
animated suspension, crew doors, tail control surface and tailwheel
10 preset camera views, 4 interior and 6 exterior (FSX only)
30-page, colour illustrated user manual in .PDF format, all aspects of the package are covered
Customer Reviews
Rated 5.0/5.0 based on 2 customer reviews
11/06/2015

5

/

5

The old Apache Longbow is one of those helicopters that everyone seems to know about because, at one stage, it seemed to be on the all-time greatest list. Itís got that brutal look and feel to it that makes it stand out from your average aircraft whilst also creating an easy and effective way for you to enjoy the caliber and the style of an aircraft like this Ė itís not too hard to get used to despite being a replica of one of the most powerful pieces of military aviation that were released for its time! However, what really stood out for me was the fact that this package manages to get the loadouts so spot on.

The variations are all based on the real-world equipment a Longbow may carry and this gives you all the help that you need to really buy into the deep and authentic range of firepower that something like this would have carried back in the day. If you are interested in doing a bit of damage then this is one to check out even if you cannot actually fire the weapons; youíll get to see the way that the helicopter operates and therefore grow to understand the challenging yet deeply rewarding nature of flying something as ambitious as this.

With the model spot on and the overall look and feel of the aircraft being magnified in the right way, this does everything it can to truly capture that design and give you total control.
11/27/2017

5

/

5

Verified Purchase

I have "team Apache" and "Apache Air Assault" and wanted to fly an Apache AH in FSX. It downloaded quickly and well on my 9 year old desktop ( Pentium Dual Core E6600 3.06 GHz with 3 GB RAM and Win 7 Sp 1, 64 Bit). After start up of FSX the Apache helicopter flew without any stutter while I had a locked framerate of 25. Skimming the trees I had really the feeling of speed. The exterior looks great. The interior also and as other people noticed, there are only a few buttons clickable. I noticed that after landing, the rotorbrake knob is not clickable. But giving more gas (raising the collective) while in the same time pulling the T-shaped lever on the left to "idle" the rotor does slow down. But it would be nice if the rotorbrake knob really would work. Flying around with the Apache is really fun.
Submit a review of this product
Customers Also Purchased