This addon is compatible with
Microsoft Flight Simulator X
. It should also work with
Microsoft Flight Simulator X: Steam Edition
. Some developers have explicitly stated compatibilty with Steam Edition but others haven't. Check the product description below for guaranteed compatibility. Just because it doesn't mention it, this does not mean it will not work with the
Steam Edition
.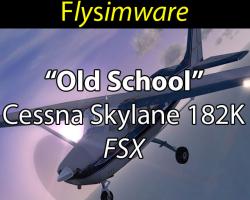 Media Format

Immediate Download

Compatibility

Microsoft Flight Simulator X inc. Steam Edition and PREPAR3D

File size

48 MB
Four place light aircraft with fixed landing gear, powered by a 230hp (172 kW) Continental O-470-R piston engine, gross weight 2,800†lb (1,270 kg) and certified on 3 August 1966.
The Hobb's engine hours gauge will track your flying hours starting at 19,000 hours. Model and gauges were tested for unnecessary lag, so expect zero lag in any type of multiplayer session.
Rev 1.4
Installer now works for FSX, P3D V1 and V2
Replaced engine sounds with default 172
Fixed texture for primer and magnet
Version 1.3: Feb 28, 2014
Original paint theme revised with higher detail
Updated tire effects and textures
Revamped the entire panel to HD 3D gauges and more
updated Flight dynamiics and engine performance
Updated most of the overall texture effects
Added DXT10 interior shadows
Added new prop and 4 stage prop effects
Updated nav lights
Updated cowl flaps
Added recognition switch to overhead panel
New cabin and recognition lighting
Updated yoke and textures
FEATURES
High Quality virtual cockpit (no 2D panel)
Real world high quality gauges
Accurate auto pilot system
Fully working 300A Navomatic ( Working Pull Turn knob)
Engine coughs if excessive drop in rpm
Removable default GPS with a swivel platform
GPS boot-up screen
Glass reflective glare, bugs and rain effect
The rear gear has 4 feet of travel
Includes a parked mode scenery
DME has a real world 3 way selector mode
Amazing night lighting effects
All lights are 3D and coded into the model
All lights work for other players in multiplayer
3D Compass with back lighting (animated 3d ball)
4 types of air vents with sounds (speed controlled)
Left and right open window sounds (speed controlled)
Adjustable and removeable right door and seats
Removealble pilot, yoke and the right door
Animated Pilots Hand Book
UPDATED FEATURES
Bump textures
Global world reflections
New Ammeter updated
New DME updated
New ADF gauge added
New 3D eng hours counter
New transponder
Updated flight dynamics / fuel
Updated eng air intake
Updated 3D yokes
Updated seats / Pilot / windows
Added fresh air vents on main wing
Added animated cowl flaps
Added some 3D gauges
Windows have support arms
SOUNDS
Over 75 sounds / 34 Custom
New AM static sound for DME
VARIATIONS: 1 Models
1966 C182K Skylane........4 seats (used)
Submit a review of this product
Customers Also Purchased