UK Airfields & Farm/Grass Strips Scenery Mega Pack for MSFS

4 reviews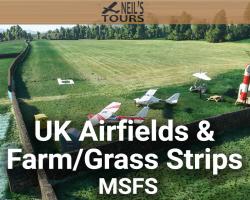 Media Format

Immediate Download

Compatibility

Microsoft Flight Simulator (MSFS) 2020 Release

File size

100 MB
This is a collection of 50 UK based farm strips, grass strips, and airfields developed by the fantastic Neil Birch compatible with the new Microsoft Flight Simulator (MSFS) 2020 release.
This add-on/mod includes airfields and strips that are generally missing from the default FS2020 install or have been poorly represented.
Airfields, Farm/Grass Strips Included
Allensmore Airfield, Hereford (EGVH)
Arclid, Cheshire (EGRH)
Ashley's Field, Skegness (AG518)
Audley End, Essex (EGTS)
Bakersfield (UK) Northants (AG98)
Bedlands Gate, Shap (EGVP)
Beeches Farm Airfield, Newark (EGVI)
Bennington Strip, Herts (AG99)
Berrier, Penrith (EGPQ)
Berrow, Ledbury (AG100)
Binstead, Isle of Wight (EGRB)
Blooms Farm, Hedingham (EGZD)
Boughton North, Norfolk (EGFX)
Bourne Park, Andover, Hampshire (EGAN)
Bowland Fell Gliding Club, Chipping (AG96)
Bowldown, Tetbury, Gloucestershire (EGNZ)
Braintree (Rayne Hall Farm), Essex (AG101)
Brimpton Airfield, Berkshire (EGLP)
Brook Farm, Out Rawcliffe (EGJF)
Cae Mawr Tydden Hen, North Wales (EGZI)
Calton Moor, Ashbourne, Derbyshire (EGOO)
Carr Valley Croston (EGZB)
Chilsfold, West Sussex (AG74)
Chirk, Clwyd (XCHI)
Clacton Airport, Clacton on Sea (EGSQ)
Cockerham (Patty's Field), Cockerham (EGIH)
Crooke Farm, Withnell, Lancashire (EGIO)
Curry Rivel Somerset (AG76)
Deal, Kent (AG77)
Egton, North Yorkshire (EGXX)
Elstree Airport Elstree (EGTR)
Felixkirk, Thirsk, North Yorkshire (EGUQ)
Freshwater Farm Isle of Wight (EG71)
Glassonby, Penrith (EGPP)
Glensanda, Scotland (EGYS)
Haywood (Broadmeadow Farm), Hereford (AG89)
Hollym, Withernsea (AG95)
Hook Norton (AG83)
Horsey Island (AG75)
Houghton Airfield Houghton, Lancashire (EGNA)
Ince-Blundell, Formby, Merseyside (EGIC)
Kingfisher's Bridge, Cambridgeshire (EGUV)
Lumb in Rossendale Lancashire (EGOX)
Lundy Airfield, Bristol Channel
Newton Peveril Farm, Dorset (EGLY)
New York, Lincoln (AG85)
Northiam, Kent (AG94)
North Moor Aero Club, North Lincolnshire (AG84)
Oban (North-Connel), Scotland (EGEO)
Orchard House Farm (AG84)
Over Farm Microlight's, Gloucester (AG90)
Also included in the pack is a 114 page PDF document providing general information for each airfield along with real-world plates for selected airfields (thanks to Pooley's) that can be used to aid finding/landing at the fields.
Installation
Unzip the file into an empty folder then simply place the individual unzipped folders (for each field) into your MSFS community folder.
Additional installation instructions are also included in PDF format inside the archive.
Customer Reviews
Rated 4.8/5.0 based on 4 customer reviews
11/08/2020

4

/

5

Verified Purchase

Just installed this and not sure if this is "normal" - it seems some of the fields are duplicated on top of ASOBO defaults. For example EGNZ Bowldon, Tetbury on the World Map I can see the following runways available for selection, 28 10 23 05 09 27 22 04. On the graphical display this is shown as 2 runways but you can see from the available number I have 8 runway starting points which is actually 4 runways, not 2?? Not sure if I have explained that very well! I have removed the folders from my community folder and installed them again same result.
10/22/2020

5

/

5

This is simply an amazing collection of UK airfields and farm strips that Neil has beautifully crafted. Microsoft flight simulator is for me is all about VFR flying in and out of pitching, slopping airfields in light aircraft. I can highly recommend this package to everyone using msfs 2020.
10/29/2020

5

/

5

Verified Purchase

Excellent work. I especially like the slight slant towards Lancashire strips. I look forwards to your future efforts.

Just a note that Bedlands Gate is listed as EGVP above, but it is EGPV.
10/28/2020

5

/

5

Absolutely brilliant just what we needed please please please do some more. Specifically the north east with Fishburn airfield excellent value for money can't wait to explore them all
Submit a review of this product
Customers Also Purchased