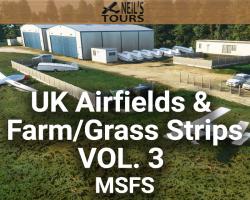 Media Format

Immediate Download

Compatibility

Microsoft Flight Simulator (MSFS) 2020 Release

File size

102​ MB
The third installment of Neil's UK Airfields and Farm/Grass Stips for Microsoft Flight Simulator (MSFS) 2020 release. You can find the first of the series here.
This pack includes an abundance of new UK airfields adding to the existing scenery series.
Another collection of 20 farm strips again dotted all around the UK. Most of the models are default at the moment but they bring alive a flat 2d surface in the main.
This collection is also a fantastic navigation aid for real-world flying due in the main to the Bing Maps backdrop making the fields as difficult (if not more difficult) to find as they are in real life.
Remember on a lot of locations you are looking for a field in the middle of a thousand fields!
I strongly recommend you obtain a good map, a stopwatch, and also turn off any navigation aids you may have and you'll find it much more satisfying to actually find the field.
One thing you will notice is after all these grass strips how easy it is to land at an airfield with a long tarmac strip!
Included UK Airfields/Strips in Vol. 3
Aughrim (EGZG)
Boulmer (AG121)
Cobbs Cross (AG120)
Darley Moor (EGMY)
Dornoch (EGZP)
East Durham (AG109)
Easterton (EGJL)
East Lochlane (EGFV)
Fair Isle (EGEF)
Glenswinton (EGDW)
Hanley-William (AG112)
Harling (AG111)
Insch (EGIV)
London Gliding Club
Long Crendon (AG113)
Otterburn (AG122)
Oxenhope (EGOX)
Park Farm (AG88)
19Peartree Farm (EGYX)
20/Pymore (AG79)
Also included in the pack is a fully-featured PDF document providing general information for each airfield along with real-world plates for selected airfields (thanks to Pooley's) that can be used to aid finding/landing at the fields.
Installation
Unzip the file into an empty folder then simply place the individual unzipped folders (for each field) into your MSFS community folder.
Additional installation instructions are also included in PDF format inside the archive.
Submit a review of this product
Customers Also Purchased