This addon is compatible with
Microsoft Flight Simulator X
. It should also work with
Microsoft Flight Simulator X: Steam Edition
. Some developers have explicitly stated compatibilty with Steam Edition but others haven't. Check the product description below for guaranteed compatibility. Just because it doesn't mention it, this does not mean it will not work with the
Steam Edition
.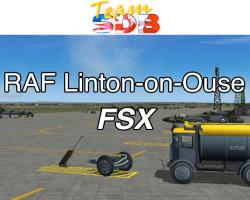 Media Format

Immediate Download

Compatibility

Microsoft Flight Simulator X inc. Steam Edition & Prepar3D

File size

28 MB
The RAF Linton Air Base has been around for many years, and was first opened in 1936. Since then, it has served a significant role in many conflicts as well as the storage and development of the RAF as one of the most feared and respected aviation teams in the world. Their massive attention to detail when designing air fields is easily apparent here, as the whole location matches its real-life equivalent throughout the 1950s style. The air base itself has obviously gone through a variety of changes over the years, but this catches it at its most resplendent.
The air base itself was used by Wing Commander A.D. Pryor at the outset, but when the outbreak of the Second World War began everything changed at the Linton. Soon, it was being used as a home for bombers to unleash devastating counter-attacks on the Germans, as well as to drop propaganda leaflets across Germany. Eventually, it acted as a key strategic location for bombing runs on places such as Germany, Holland and Norway as well as Italy. It was used by the Canadian Air Force during the war, also, ensuring that it served a valuable purpose throughout the war.
Made up of four Type C hangers that create a crescent shape towards the landing ground, with a fifth based behind the most western hanger in the air base, this has a rather distinctive look and feel to it. it was created under the popular Expansion scheme and for that reason it followed an, at the time, innovative approach towards managing and preparing RAF bases.
With flat roofs on each of the buildings, too, this distinctive look started to catch on and in time many UK-based RAF air bases were turning to this style for something new.
By the end of the war, it was used to provide transport for passengers as well as freight back to and from the United Kingdom. Afterwards, it was eventually converted into a popular Fighter Command post with the likes of the Hawker Hunter, Canadair Sabre and Gloster Meteor all serving here. In 1957, though, it was closed for significant maintenance and improvement after years of disrepair.
It was reopened as a high ranking flight training school, helping both RAF and Navy rookies become seasoned veterans in no time. It was this at this point, though, that the air base started to change. After the 1950s ended, it started to become more commercially used and by 1985 it was regularly used for supply serviced and engineers as these were contracted out to privatized third parties. Today, this contract for improvement is held by Babcock International.
In the modern era, the air base has been used to provide fast-tracked fighter pilot training and also is used to show Air Cadets how to fly aircraft such as the Grob Vigilant. it also has a large memorial room that goes through the wide range of accolades that were collected by those at the base throughout various events.
What's Included?
In this package, you will gain access to the brilliant RAF Linton-on-Ouse air base. As a prominent air base for more than seventy years, this has become one of the most important parts of small-scale RAF operations for quite some time. Now, you can have the whole package recreated in the most stunning detail possible. In this package, you will gain access to the entire Air Base complete with high definition textures and accurate placement of buildings and objects. Using the most recent images possible, this captures the actual look and feel of the air base in the most specific manner possible.
Utilizing the greater power of FSX over its FS2004 equivalent, this package has more refined detail in each of the pieces of equipment included. Additionally, it also comes with various smaller additions that really make the graphics stand out and look better than ever, as well as capturing the true scenery that surrounds the air base. Everything here has been managed and improved to the very highest standards, taking into account the importance of accuracy and precision throughout.
This package looks to cover the late 1950s equivalent of the base, when it was arguably at its popular. To fit in this with this timeline, a selection of 92 & 66 Squadron aircraft have been added in. additionally, the Hawker Hunter F Mk.6 is included statically, waiting at the airport for the various pilots to come and use it.
Detailed Features
The most attention to detail possible for this popular RAF air base – this takes on all of the most prominent features and makes them stand out even more than ever for precision and accuracy

A comprehensive AI traffic file has been generated to ensure that you can go from A to B without lying into uneducated colleagues in the middle of the sky! Path making and flight has been designed flawlessly to ensure that you get maximum comfort as well as quality when taking to the skies around this famous base

Full night lighting to make sure you can fly around at any time of the day and still have complete control and sight over where you are landing, and what is going on around you as you approach the air field

Perimeter fencing and gates have been added to fit with the image and style of the real thing, adding that "exclusive" feel that many RAF bases come with for the greatest effect possible

Expansion Period technical sites have been added, and each part of it uses buildings that are from the specific era stated above. This gives you an accurate feeling and style of airport whilst you fly around

Full street lighting to further improve visibility whilst you look around the air base, improving the visual quality of the entire air base quite dramatically

Accommodation blocks and married quarters are added in to make a bit of extra life and vibrancy to the area that little bit more apparent
Submit a review of this product
Customers Also Purchased