This addon is compatible with
Microsoft Flight Simulator X
. It should also work with
Microsoft Flight Simulator X: Steam Edition
. Some developers have explicitly stated compatibilty with Steam Edition but others haven't. Check the product description below for guaranteed compatibility. Just because it doesn't mention it, this does not mean it will not work with the
Steam Edition
.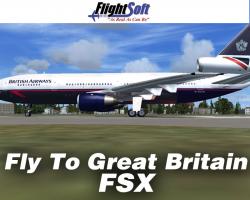 Media Format

Immediate Download

Compatibility

Microsoft Flight Simulator X

File size

71 MB
FlightSoft's visit to Great Britain includes the most sought after sites in this great region … visit London and drop by the London Gardens, visit Big Ben, and what about some Italian food at the River Café, London's finest restaurant featuring Italian cuisine. Your pilot – copilot – flight engineer team will be totally focused on those runway lighting systems. These approaches under CAT II and CAT III conditions will bring you on the verge of realism quite quickly … the `Special' runway lighting effects under abnormal weather conditions will excite the experienced enthusiast and absolutely astound the neophyte experiencing these flight conditions for the first time.
One of our massive wide body jets will bring you to lots of locations throughout Great Britain and beyond. You'll visit London, Dublin, Shannon and then fly over to the airports in Stanstad, Bristol, Birmingham, Manchester, Glasgow, and even visit the Bonus Locations in Africa such as Johannesburg, South Africa and Dar-Es-Sallam in Tanzania Africa. Now if that doesn't dismantle those inhibitions I don't know what will … come Fly to Great Britain FSX and experience destination after destination with exciting real world conditions at some of the most challenging airports in the world.
Submit a review of this product
Customers Also Purchased