Discover: Great Britain (Auster Autocrat J/1) for FSX & FS2004

1 reviews

This addon is compatible with
Microsoft Flight Simulator X
. It should also work with
Microsoft Flight Simulator X: Steam Edition
. Some developers have explicitly stated compatibilty with Steam Edition but others haven't. Check the product description below for guaranteed compatibility. Just because it doesn't mention it, this does not mean it will not work with the
Steam Edition
.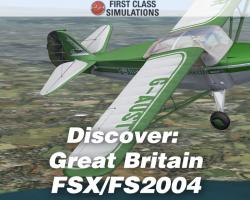 Media Format

Immediate Download

Compatibility

Microsoft Flight Simulator X & 2004

File size

222.8 MB
First Class Simulations expands their Discover series with another great add-on for Microsoft Flight Simulator X and FS2004, this time taking us on a grand tour of Great Britain. This spectacular series of flight adventures is an all encompassing journey across the whole of Great Britain, Ireland and the Channel Islands. Whether from Glasgow to North Connel, or the Isle Of Man to Belfast City, be sure that this package offers more than you may realise. Great Britain is full of breath-taking sights, and the 66 flights in this package will take you more than 3,000 miles and show you all of them. Seeing the City Of London lit up at night, or flying low over Salisbury Plains and admiring the wonder of Stone Henge, can be a truly humbling experience.
Each flight has a filed flight plan, and one flight will lead into the next, as this carefully constructed tour leads you from sight to sight. While you're able to fly any aircraft of your choice, First Class Simulations have included an accurate model of the Auster Autocrat J/1, a single engined British touring monoplane from the 1940's. The model holds up well to it's real-world counterpart, and the performance is as you would expect for an aircraft of this type. A total of five liveries are included with the aircraft, the default of which is the green and white G-AUST 'Discover UK' livery. You will find detailed pilot's notes and a full tutorial contained within the package to help you start out with this aircraft, along with five other useful PDFs. The annotated cockpit guide will help you learn the nuances of this vintage aircraft.
This package is a valuable change of pace, full of interesting places and great sceneries, and it offers as much challenge as piloting commercial jetliners around the globe.
Customer Reviews
Rated 2.0/5.0 based on 1 customer reviews
03/16/2013

2

/

5

Another program like Around the World in 80 Flights, so I will write the same review here with a few subtle changes.

You can, of course, look around GB, do a number of google searches looking for the coolest things there to see, find appropriate airports along the way through this area and then not have to order this program.

I have often read other reviews from people who say just that, "why pay for this when you can do it all yourself?" Well, my answer is that doing it all yourself would take a lot of time. Here you can decide to spend a little bit of money and have all of this done for you.

A simple choice, I beleive: take a lot of time and put in a lot of effort, or decide that you would prefer to concentrate on flying. Each to thier own.

These routes through GB are well chosen. Most of the flights will take you somewhere interesting and you are some material about the most important attractions along the way. I canĄt agree with the product description as I donĄt find the things here to be the most interesting in the world. There are many places to see, but the variety here is far less than that seen in 80 Flights Around the World or Discover Europe, for example.

The Auster Autocrat windshields were opaque, so that I could see nothing, even in clear weather. My attempts to contact customer service led me nowhere - I go no response. This circumstance has significantly influenced my rating.

PS, I got an Autocrat for free online and it is one of my favorite light slow planes.
Submit a review of this product