This addon is compatible with
Microsoft Flight Simulator X
. It should also work with
Microsoft Flight Simulator X: Steam Edition
. Some developers have explicitly stated compatibilty with Steam Edition but others haven't. Check the product description below for guaranteed compatibility. Just because it doesn't mention it, this does not mean it will not work with the
Steam Edition
.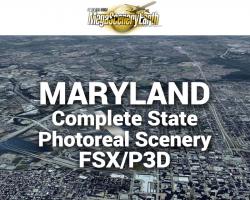 Media Format

Immediate Download

Compatibility

Microsoft Flight Simulator X and Prepar3D

File size

5.4 GB
Fly the entire state - BORDER to BORDER - of Maryland in photoreal detail.

Maryland is 12,407 square miles in size and has 185 airports. You'll see everything that you see in Maryland in real life in the scenery.

This scenery also includes portions of Washington DC north of the Potomac.
As an added bonus, we now provide all the VFR and IFR charts in digital PDF format to enable you to get the most out of your scenery. This includes TACs and Sectionals, IFR enroute charts and 193 page book of Instrument Approach plates, Airport Diagrams, SIDs and STARs. The charts are downloadable along with your scenery files.
Some of the cities and landmarks you'll get to enjoy as you explore Maryland include:
Cities: Baltimore, Washington DC, Annapolis, Frederick, Hagerstown, Cumberland
Lakes & Waterbodies: Chesapeake Bay, Deep Creek Lake, Liberty Reservoir, Loch Raven, Prettyboy, Jennings Randolph
Mountains: Appalachians, Hove Crest (3,369 ft), Roth Rock, Allegheny heights, Eagle Rock, Marsh Hill and a total of 50 peaks above 2,500 feet.
State Parks & National Forests: Frederick Municipal Forest, Cunningham Falls, South Mountain, Blackwater.
Major Rivers: Potomac, Patapsco, Patuxent
THIS TITLE COMES WITH A FULL SET OF FAA AERONAUTICAL CHARTS FOR Maryland IN PDF FORMAT.
Here's what you get (download links for charts will be given to you with your product download):
SECTIONAL CHARTS: Washington
TERMINAL AREA CHART: Baltimore-Washington
HELICOPTER ROUTE CHART: Baltimore-Washington
LOW ALTITUDE IFR CHARTS: ELUS-29/ELUS-30, ELUS-33/ELUS-34
HIGH ALTITUDE IFR CHARTS: EHUS-9/EHUS-10
AIRPORT/FACILITY DIRECTORY: A 23 PAGE PDF BOOKLET
APPROACH CHARTS & AIRPORT DIAGRAMS: A 186 PAGE PDF BOOKLET
Submit a review of this product