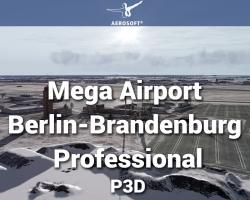 Media Format

Immediate Download

Compatibility

Prepar3D v4 & v5

File size

12.8 GB
As one of the most important cities in Europe, Berlin sees a huge amount of domestic and international travel. Much of this should take place at the Berlin-Brandenburg Airport, a planned airport for those who like to come to the city. However, despite being one of the largest construction projects to take place in European aviation history, the development of the airport was never simple.
Indeed, construction started over a decade ago, in 2006, and was scheduled to open in 2011. Already around seven years beyond the original schedule to get the airport finally open, with the initial budget now utterly dwarfed as the project runs into its second delays. For all of those delays, frustrations, build-ups, and problems, there's still no sign of it finally opening up.
This looks to take on what we know about the international airport and what we can actually add in with the knowledge that it exists. Alongside this, users will be able to make the most of new and improved take on the Berlin-Schönefeld airport.
You can switch from the present status to one where the airport is open with just a few simple clicks of a button. Alongside this, you can also make use of the Professional edition' add-ons including new and improved dynamic lighting, automated seasonal scenery and live weather switching on the airport' lighting.
Key Features
A fresh take on the Berlin-Brandenburg International Airport.
New and improved versions of the Schönefeld Airport to the north, with immense attention to detail.
New and improved 2048 x 2048 pixel detail ensures that this airport looks special both during the day and in the dead of the night.
Over 100km2 of high-end adjustments made, making sure that even the smallest of terrain features and meshing add-ons can come to life, such as quarries and streets.
Authentic 3D grass and vegetation allow the whole area to look more hospitable, welcoming and unique.
Two fresh and improved AFCAD version can give you a new and improved solution; both BER open or SXF open are there to choose from.
Animated visual docking systems and jetways can be controlled simply by pressing CTRL+J.
Installation details and manuals are provided in PDF form, alongside easy to use charts.
Dynamic lighting and seasonal switching help to make every trip here feel a little more realistic.
Easy airport activation, with new lighting coming alive when the bad weather kicks in for an easier experience overall.
Exported using the P3D v4 SDK for total compatibility
Submit a review of this product
Customers Also Purchased