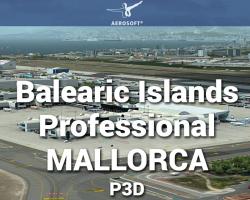 Media Format

Immediate Download

Compatibility

Prepar3D v4 & v5

File size

6.8 GB
A trip to Mallorca often ranks high among the most popular holiday destinations. The Balearic Islands are rated as some of the most beautiful islands on the Iberian Peninsula. However, a trip here in P3D often does not produce the same level of realism as one might expect. With help Balearic Islands Professional Scenery for P3D, though, you can make it much easier to land on these popular tourist destinations and immediately start spotting landmarks.
A trip over to this awesome Mediterranean location will ensure you can enjoy these islands like never before on P3D. This will help to add in key locations that you would be used to visiting in real life, as well as key island airports such as Palma and Son Bonet.
On top of that, the coastlines and various other parts of the isles have been entirely reworked. This allows for much more exact accuracy in the positioning of coastlines, all carried out in 0.5m/pixel resolution for the utmost clarity. Add in the addition of AESLite, and you will see all manner of dynamic apron traffic, as well as traffic, moving around the surrounding areas of the airport.
The airports, too, have undergone a clinical recreation to ensure they are far more realistic. This follows many small but important changes, with everything from accurate housing added to safe gate parking systems around the airports. Itís these small atmospheric changes that make the whole experience in Mallorca much more authentic. So, if you are looking for a virtual holiday that you would be absolutely sure to enjoy, be sure to try this add-on out.
A trip to Mallorca has never looked so good in a simulator.
Whatís New?
New and improved coding to ensure that this package is fully compatible with P3D V4/V5 SDKs.
Impressive new performance optimization tricks used to maximize performance without minimizing presentation.
Ground layouts all follow P3D V4/5.
New aerial imagery provided for the whole island and airports, with 0.5m/pixel imagery covering the entire island region.
City objects and other autogen add-ons included where appropriate.
Having performance issues? Photorealistic island coverage can be toggled on/off.
5m elevation models for the islands used.
Numerous new static aircraft are included, from buses to baggage carriers and handlers.
3D runway lighting offers much easier visibility when flying in evenings and/or poor weather.
new apron laps also provide effective, dynamic lighting for the whole airport.
AFCAD approaches replaced in favor of AirDac 1804 instead.
Scenery registration is easy and simple: simply follow the add-on.xml procedure.
Take control and adjust the simulation as you see fit with the provided configuration tools.
Submit a review of this product