Lanzarote (GCRR) Scenery for FSX

1 reviews

This addon is compatible with
Microsoft Flight Simulator X
. It should also work with
Microsoft Flight Simulator X: Steam Edition
. Some developers have explicitly stated compatibilty with Steam Edition but others haven't. Check the product description below for guaranteed compatibility. Just because it doesn't mention it, this does not mean it will not work with the
Steam Edition
.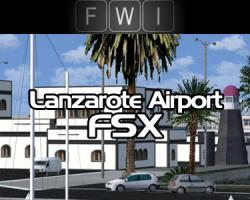 Media Format

Immediate Download

Compatibility

Microsoft Flight Simulator X

File size

77 MB
Imagine being able to travel all over the world- without ever having to leave home. See the Egyptian Pyramids, fly over the Indian Ocean, soar over the Great Wall of China. The Microsoft Flight Simulator allows you to see all these magnificent sights. The culmination of 25 years of effort, the flight simulator is the most popular of its kind. It has the most advanced features and cutting edge technology, allowing you to have the best experience possible. And now available for immediate download is a brand new scenery setting to complement the collection you already have.
The brand new Lanzarote Airport scenery brings a whole new world to your virtual dimension. Lanzarote airport is located in the gorgeous Canary Islands, and is one of the most popular airports in the region. Lanzarote airport began as a military airport, but has recently been converted to a civilian airport. The airport is situated as San Bartolome, an extremely popular tourist destination- and for very good reasons. With beautiful, lush landscaping, sunny and clear skies, and the intriguing volcano background, the airport is one of the most interesting places on earth. And now it's available especially for you- to download and visit at your leisure.
The new scenery that is available is extremely true to life. The scenery is meticulously detailed- it gives a new gaming experience like no other. You can fly over crystal clear waters and land at the high class airport- and it all seems so real!
This new scenery gives a whole new meaning to the genre of virtual experience. Emulating the real airport, the Lanzarote scenery is bustling and sunny- the perfect place to take a vacation. And the best part is that it is all in your control. The incomparable graphics and flawless game play allow you to have the best experience possible.
Whether you dream of being a pilot someday or simply like playing the game for fun- the Lanzarote airport scenery is perfect for you!
Manufacturers Description
Lanzarote Airport scenery and surround area enhancement from Fly Wonderful Islands for Microsoft Flight Simulator X. This scenery pack features highly details airport scenery for GCRR including objects, buildings, taxiiways and much more.
The airport of Lanzarote is situated 5 KM of Arrecife in the Canary Iles, the airport GCRR at is construction was a military airport, and divided today with the civil airport. An airport that growing constantly with an attendance of more than 6 million passengers per year.
This scene represents a realistic and complete representation of the airport and his environment: re worked landclass, reliefs, the roads, the cities, ports: Pourto del Caarm, Las Colorada, Arrecife…; Parco Nazionale di Timanfaya.
This scenery is the perfect for an unforgettable trip under the shadow of the volcanoes. Destination for your summer flights…
Features
Original detailed airport scenery
3D Signalizations and taxi lights
Numerous static objects at the airport
Landclass
Mesh Terrain
Corrected coastlines
Recommended Requirements
Microsoft Flight Simulator X SP2
Intel Core 2 Duo E6400 or Intel Core 2 Extreme 1 GB RAM (2 GB RAM recommended)
Graphic card with minimal 256 MB RAM (512 recommended)
Review
"The scenery and objects are original and highly detailed. Overall, the airport is now represented as a hive of activity, which is just what the real Arrecife Airport feels like... Lanzarote performed EXCELLENTLY in FSX on my system... For the VFR GA pilot, the scenery is heavenly. It is realistic, looks just like the real thing, and performs superbly in FSX" - Avsim
Customer Reviews
Rated 1.0/5.0 based on 1 customer reviews
04/17/2018

1

/

5

For 13$ not worth. This scenery worth of freeware. Donīt buy it. Really
Submit a review of this product