This addon is compatible with
Microsoft Flight Simulator X
. It should also work with
Microsoft Flight Simulator X: Steam Edition
. Some developers have explicitly stated compatibilty with Steam Edition but others haven't. Check the product description below for guaranteed compatibility. Just because it doesn't mention it, this does not mean it will not work with the
Steam Edition
.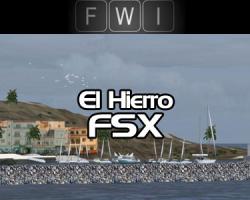 Media Format

Immediate Download

Compatibility

Microsoft Flight Simulator X

File size

14 MB
An expansion for Microsoft Flight simulator X that features the airport of El Hierro, and the many neighboring islands, is now available. This simulation, much like the other expansions available for Microsoft Flight Simulator is perfectly modeled and exhibits the natural beauty and excellence of the Canary Islands.
El Hierro or the "Meridian Island" is the smallest in terms of surface area and most southwestern island of the Canary Islands. The El Hierro airport is located on the most northeastern part of Valverde, a province and capital within El Hierro. The airport provides domestic flights to the other islands within the region. With the addition of the airport in 1972, communications between each of the islands greatly increased and allowed for cargo and resources to be shared amongst them. In addition, since the Canary Islands are famous for their tourism, the airport allows for much more human traffic, which elevates the status and economy of the island.
The quality of the simulation matches those of other expansions for the Microsoft Flight Simulator. Specific features include detailed airport terrain and scenery that mimic the ones from El Hierro, 3D models of the airplane signalizations and taxi lights, a new landclass and mesh terrain for further customization as well as a new collection of static objects, altered coastlines, and access to the Frontera, Puerto de LA Estaca, Valverde, and Roque de Bonanza provinces.
The expansion combines the colorful aspects of island life as well as the industrialized characteristic of human society. In addition, all textures and objects have been revamped to match the lush environments and exotic locals of the Canary Islands. This expansion requires Microsoft Flight Simulator X SP2, Intel Core 2 Duo E6400 or Intel Core 2 Extreme 1 GB RAM (2 GB RAM recommended) Graphic card with minimal 256 MB RAM (512 recommended).
Inaugurated in 1972, the airport of El Hierro, located in the municipality of Valverde, has changed life on the island, improving communications with the rest of the archipelago and paving the way to a new type of tourism.
Air traffic is domestic, with the main origin/destination of flights being Tenerife Norte Airport and, to a lesser extent, the airports of Gran Canaria and La Palma. In 2007, the airport processed 184,762 passengers, 4,790 operations and 171 tonnes of cargo.
History
The first aeronautical event on the island of El Hierro occurred on 12 December 1955 when a helicopter flew to the island, in what was also the first search and rescue operation in the Canary Islands, to airlift a sick person off the island.
Studies for the localisation of an airport began in 1962. Due to the complicated relief of the island, the options were limited and in the end an area on the coast was chosen, known as Llano de los Cangrejos, situated in the northeast of the island, close to its capital, Valverde.
This scene represents a realistic and complete representation of the airport and his environment: landclass, reliefs, the roads, ports, the cities, this scenery is the perfect for an unforgettable trip under the shadow of the volcanoes. Destination for yours Spring and Summer flights…
Features
Original detailed airport scenery
3D Signalizations and taxi lights
Numerous static objects at the airport
New Landclass
New Mesh Terrain
Corrected coastlines
Frontera, Puerto de La Estaca, Valverde, Roque de Bonanza
Recommended Requirements
Microsoft Flight Simulator X SP2
Intel Core 2 Duo E6400 or Intel Core 2 Extreme 1 GB RAM (2 GB RAM recommended)
Graphic card with minimal 256 MB RAM (512 recommended)
Submit a review of this product