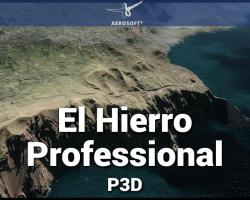 Media Format

Immediate Download

Compatibility

Prepar3D v4 & v5

File size

3 GB
A trip to El Hierro might once have been out of consideration with Prepar3D. This island and the airport itself are two of the most popular parts of the Canary Islands but always felt hard to access. The aim of this add-on is to help add a touch of individualism to each of the island and the airport, making sure that it feels like a much livelier place to arrive at from the sky. This helps to add a touch of artistic charm to the airport and the island, making sure that you can take on this challenging but rewarding aviation experience without issue.
The quality of the island is vastly improved, with newly detailed ground textures added to help make sure that the whole location looks and feels more enticing in general. The new and improved aerial imagery helps, too, making sure that it blends well with the fresh new autogen developed from scratch.
The airport has seen new 3D meshing include, too, making sure that it accounts for the underpass and the sloped car park. Alongside this is a new take on the airport itself, with new dynamic car traffic added via AESLite. With both day and night covered, too, you can make sure that arriving at the airport at both times of the day can deliver a wholly different response on your part.
Key Features
Everything compiled using the P3D v4 SDK for the best compatibility and performance control.
Optimised for easier shadowing without the drop-off in performance expected.
New elevation model of around 5m makes sure that the island feels more realistic.
New and improved ground layout ensures that P3D v4-quality scenery is used on the ground.
Dynamic apron traffic, complete with dynamic headline effects, helps improve visibility.
Apron lamps also included for new effects and dynamic lighting.
The scenery is full registered using the P3D v4 add-on.xml procedure solution.
New and improved 25cm/pixel ground textures that cover both day and night.
3D meshing for the whole airport area is included, with a new underpass and sloped car park making sure they are easily visible.
Dynamic car traffic moves around El Hierro with ease, following the AI plans set out to make sure they never veer off course.
Autogen makes sure that the whole island looks far more unique than it does presently.
Easy to use configuration tool that can be used to control many different features.
Submit a review of this product