Grumman F11F-1 Tiger for FSX/FS2004

2 reviews

This addon is compatible with
Microsoft Flight Simulator X
. It should also work with
Microsoft Flight Simulator X: Steam Edition
. Some developers have explicitly stated compatibilty with Steam Edition but others haven't. Check the product description below for guaranteed compatibility. Just because it doesn't mention it, this does not mean it will not work with the
Steam Edition
.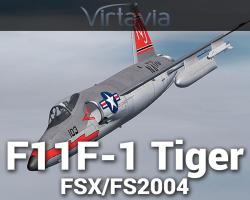 Media Format

Immediate Download

Compatibility

Microsoft Flight Simulator X & Microsoft Flight Simulator 2004

File size

60 MB
The F11F Tiger was first conceived in 1952 as the result of a design effort to create a low-drag, supersonic aircraft based on the Area Rule, which resulted in the Tiger's distinctive, wasp-waisted fuselage and thin wings. The project was designated G-98 and ultimately resulted in the F11F-1 Tiger, a transitional aircraft with impeccable handling and good looks. However, good looks were not enough and the Tiger was supplanted by the much more effective and substantially faster F8U Crusader, but not before the plane came to the attention of the Blue Angels demonstration team. The aircraft was so reliable, photogenic, and aerobatically capable that it served with the Blue Angels for a decade, long after the airplane was retired from active duty with the Navy. The F11F-1 is a sleek, elegant, and truly beautiful example of Cold War transonic jet technology. The Grumman Tiger's excellent overall quality and stage presence have earned it an enduring place in aviation history.

Features -

- 3 loadout variations with 3 detailed texture sets :

1. VF-21, 1958, 'Shark Mouth' - 4 x AIM-9
2. VF-121, 1958, long range - 2 x AIM-9 & aux tanks
3. Blue Angels, Pensacola, 1960 - 'clean'

- full native FSX model with all FSX features (bump mapping, self-shadowing, bloom etc)
- includes seperate flight model for long-range variant
- simulated F11F soundset included
- authentic virtual cockpit with animations and mousable controls
- authentic all-xml 2D panel, custom pop-ups for autopilot and radios, fully mousable
- automatic (on throttle) animated afterburner visual effect with corresponding performance boost
- automatic smoke trail, wing surface vapour flash and wingtip vortices effects
- animated wingfold, tailhook, speedbrakes, togglable pilot figure
- animated canopy (shift-e)
- highly authentic flight model with illustrated checklist
- v-c rain effects (FS9 only)
- realistic, animated crew figure
- paintkit available on freeware page
Customer Reviews
Rated 5.0/5.0 based on 2 customer reviews
07/19/2016

5

/

5

Verified Purchase

A light-weight supersonic jet fighter with great stick and throttle control, range, and pilot visibility. Her panel is pretty, and I never get tired of looking at it. The analog instruments are large and readable, including vor with dme. Please notice the government gas gauge. This is the biggest gas gauge I have ever seen on any airplane, car tractor, or boat. I know she almost shot herself down one time, but in Navy history I doubt anyone ever ran out of gas in her. From center line, shove the power forward, lift at 160. Dance the watusi with the throttle to turn off the afterburner, and fuel potion number 4 works for the pattern, 7 for maneuver. 10 and above is afterburner territory which is great. Now try to power back. There must be a class I have missed. If youíre traveling, no need to fear the afterburner that wont turn off. Keeping full throttle, fly to altitude where fuel flow equals pattern fuel flow. At 44,000 itís fuel potion number 3.8 with Doctor Mach showing .99. Time to descend? Cut the throttle and nothing happens, same fuel flow. Donít sweat it, at about 20,000 either the fore and aft watusi dance on the throttle, or the cuss words make the afterburner light go away. You will notice on a long, 20 mile final approach with zero power, F-11 Tigerís petite and clean airframe will glide a long time without losing airspeed. Gear and flaps under 250, 200 on short final, 10 feet over runway airbrake to kiss at 175. Stay above 150 under all circumstances. When the 10 year old boy inside you must play, use fuel potion number 7, keep constant altitude and spin that compass. When the airspeed approaches 200 in a turn sheíll stall and fall. Power on stall just level the wings and she recovers. Keep the 3 golden rules of flying in mind: airspeed, airspeed, and airspeed. My only complaint is that the panel lights are not bright enough. I only fly her in the day, but she is my new favorite. Buy this sweet Grumman F-11 and track your hours if possible. Youíll fly her a lot
11/06/2015

5

/

5

The shark-faced design of this aircraft was what drew me to it and when I realized it was a Tiger I knew right away I had to have this. As one of my all-time favorite flight models that really does look exceptional, this package does everything that it can to give you the help needed to start building up a new way of flying Ė itís so damn fast it can be hard to keep up with at times!

Wow, I was really struggling at first. The detail and the design impressed me but I will admit to being a bit blown away with the speeds this bad-boy was capable of hitting. The brilliant model looks great whilst making sure you feel as if you are genuinely flying at the speeds that this model was built to try and handle with.

Although the aircraft is really old in modern comparisons itís still amazingly powerful and will give you all the help that you need to buy into this model of aircraft once and for all Ė you might think itís was crazy to fly something like this back in the day but when you get your hands on the wheel you will see exactly why people always liked to take part with these, I think!

A brilliant and close representation of the real thing whilst making it easier than ever to buy into the deeply enjoyable style that this package gives off, making it easier than ever to really love military aviation.
Submit a review of this product
Customers Also Purchased