FSX Booster Live (FPS Performance Booster)

12 reviews

This addon is compatible with
Microsoft Flight Simulator X
. It should also work with
Microsoft Flight Simulator X: Steam Edition
. Some developers have explicitly stated compatibilty with Steam Edition but others haven't. Check the product description below for guaranteed compatibility. Just because it doesn't mention it, this does not mean it will not work with the
Steam Edition
.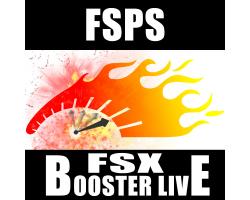 Media Format

Immediate Download

Compatibility

Microsoft Flight Simulator X inc. Steam Edition

File size

13 MB
FSX Booster Live arrives as a brand new product focusing to new users of Flight Simulator. Improving FSX performance was never easier and neither will ever be.
FSX Booster Live, uses just a bar you can move from 0 to 100 % and that's it. No options to confuse you, not tick boxes, no extra details , nothing at all.
If at 0% (Decrease frames) all FSX graphics power is diverted to faster tile loading, better graphics quality, smoother texture and autoget loading. If at 100% (Increase frames) all FSX power is diverted to frames per second.
So just fire-up your FSX and then start FSX Booster Live. Watch that while you move the bar to 100% you gain frames , watch as you move the bar to 0 how graphics become more stable and better.
Everything now is in your hands: You can control the all-time FSX trouble, the quality-to-frames ratio - as you want. It will only take some flights to find the desired value! Either boost frames all the way up, or all the way down so you would gain graphic stability and smoothness or of course, anything in between !
Of course the main advantage is that you can do it LIVE! For example if at a very congested airport where frames naturally drop, you may use the 100% setting, but while flying you may use a less aggresive setting of 50%...
Application is available also on a fully function-limited time demo version. Just test it out for a bit (10 uses , 5 minutes each) and see if that suits you. If it works for you, just take the chance to improve your flying experience.
You can download the demo from here:
http://www.thefsps.com/Programs/FSXBoosterLive/demo/FSXBoosterLIVE-DEMO.zip
Features:
Direct connection to FSX
Instant results
No edit to fsx.cfg and user's options.
Up to 200% FPS (frames per second) improvement
Product requirements
FSX Booster Live, can run at any PC that is able to run Microsoft's FSX . However some requirements must be met.
Requirements:
Windows: XP SP3 / Vista / Win 7 – 32 or 64 bit / Win 8 / Win 10
Flight Simulator X – Service pack 2 or Acceleration pack or Steam Edition
Microsoft's NET Framework 3.5 SP1
Up and running internet connection for activation and license checking of the product on each application's start-up.
PDF viewer application for reading the manual.
Limitations:
One active installation on only one PC at any given time. (Checked via online validation after every installation.) Users can have the application install on multiple computers moving the active license around using the "Transfer License" function.
FSX Booster Live must run on the FSX PC in order to communicate with it. No remote option.
FSX Booster Live is not compatible with:

FSX Fiber Accelerator or old FSX Booster / Xtreme FSX PC apps. Should run alone.
Customer Reviews
Rated 3.7/5.0 based on 12 customer reviews
06/04/2018

5

/

5

Verified Purchase

I purchased a windows 8.1 a couple of months before the " New Windows 10 " was suppose to be released. FSX was Excellent on that version of windows (even with ALL the little extras that can be downloaded). Well, long story short, I was able to get back on line and I have been having problems with my FSX on the Windows 10. I just wanted to Thank ya'll for having the tools available to make using the FSX program work better, on Windows 10. I am a "Grounded student pilot' with 97.3 hrs. of actual flt. time and using this program has kept me up to date on some of the skills needed in that arena. Hopefully when I am able to get back in the air agine, it will be in part because of the programs that folks like you, make available for the rest of us out here. Anyway THANKS for a program that REALLY works! And I know who to turn to if I have any other issues with my sim. MWMIV
12/12/2016

4

/

5

Verified Purchase

It seems to do what it says on the tin. Moving the bar to the right does increase the on screen frame rate and to the left lowers it. With very detailed scenery like Drzewiecki New York City X it makes a noticeable but not enormous difference but that is probably because my system is getting a bit long in the tooth. When I can afford to upgrade my system it will probably be more beneficial for these sort of areas but with basic FTX Global and OLC it does help considerably to maintain responsive controls when flying low on approaches. I don't understand the technicalities but it is certainly less tiresome than having to pause the flight and manually change display settings to avoid chugging along like a steam train when the scenery becomes more detailed.
12/08/2016

5

/

5

Verified Purchase

I am a R/L student pilot and I use FSX-SE mostly for training under the most realistic conditions the simulation allows: Flight controls, realistic weather with AS16, TrackIR,, I also fly from my usual airport, SUAA Angel Adami in Montevideo, Uruguay and of course, with realism set at maximum. When I set all views to maximum quality my frame rate was too low, so I had to do some concessions in that sense. Then I downloaded the FSX Booster demo, made a few tests and upon realized that the fram erate just doubled, purchased it. Now everything runs better, To reach perfection I realize that I should spend a lot more money in computer hardware actually, but I am very much satisfied.
12/15/2018

5

/

5

Verified Purchase

On my system it does exactly what it is advertised to do and does it well. While it is somewhat useful when flying complex aircraft over extremely detailed scenery, it does have its limitations. If you wanna use all the weapons and navigation systems on your VRS F/A-18 Superbug simultaneously, better head for the desert. On the other hand, if you wanna see New York City at its finest, fly an unsophisticated, comparatively slow airplane or helicopter. That FSX BL does all its work with a single slider without having to shut down your sim makes it very, very useful and handy. As a former software developer, I can tell you it's well worth its price.
12/19/2016

1

/

5

Verified Purchase

Updated review of FSX Booster Live-after using it for several hours in various weather conditions flight patterns and settings, I have found that all this does is remove graphics and completely delete display features such as ground scenery and GPS display in the aircraft. I must say I am most let down by this product. My avg FPS increase after 2 days testing and 6 hours of flights was only 1.2 FPS/sec and that's cranked up to 100%. I'm not impressed unfortunately, I will be seeking a refund.
12/12/2016

2

/

5

I was impressed about your revue of FSX Booster but unfurtunately, i bought the programm with a real hope of better framerates in FSX and was disappointed. I'm disappointed than once pourchased and installed, i tried it on Zürich v2.0 scenery (incl. Switzerland PRO FSX) and i found that the program didn't work as annouced or advertised also if i put the FPS bar to 100%! Infact, the promised FRPS increasement didn't change at all. Thank You and with my regards, Romano BRUNATI, Switzerland
12/09/2016

5

/

5

Verified Purchase

We have long expected some improvement over the slow FSX operation. This program accelerates FSX fps without having to enter to modify fsx.cfg. WELCOME, but it does not accelerate the operation of the menus or accelerate the loading of the scenarios. Keep looking for FSX improvements because there are still no serious flight simulators to replace it. Greetings.
10/02/2017

5

/

5

Verified Purchase

I rarely do reviews. But this product does what it says. I do fsx se, on a laptop and am satisfied with results. Fsx is a single core application. And, it's not optimized for modern pc. So, this application is useful to have a good blend of animation and physics. Enjoy.
12/11/2016

5

/

5

Verified Purchase

I have to say I saw a real improvement in my frames, I dont get the buffering in heavy airport traffic/weather I used to get. I would say it was worth the purchase and I'm happy with it.
11/10/2017

1

/

5

Bought it and found it to be totally useless. It did not improve frame rates at all. I'll stick with FSX booster 2013 v 3.1. At least I know that works. Save your money!
12/08/2016

1

/

5

Verified Purchase

I'm sorry but I found the program didn't work as advertised. I ran the FPS bar all the way up and it didn't change it at all.
12/12/2016

5

/

5

Verified Purchase

Quite simply, it works well. Average frame rate of 22 on ground at busy night airport. Easily more than twice as fast.
Submit a review of this product
Customers Also Purchased