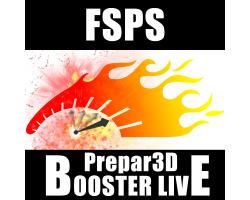 Media Format

Immediate Download

Compatibility

Prepar3D 1,2,3

File size

13 MB
P3D Booster Live arrives as a brand new product focusing to new users of Flight Simulator. Improving P3D performance was never easier and neither will ever be.
P3D Booster Live, uses just a bar you can move from 0 to 100 % and that's it. No options to confuse you, not tick boxes, no extra details , nothing at all.
If at 0% (Decrease frames) all P3D graphics power is diverted to faster tile loading, better graphics quality, smoother texture and autoget loading. If at 100% (Increase frames) all P3D power is diverted to frames per second.
So just fire-up your P3D and then start P3D Booster Live. Watch that while you move the bar to 100% you gain frames , watch as you move the bar to 0 how graphics become more stable and better.
Everything now is in your hands: You can control the all-time P3D trouble , the quality-to-frames ratio - as you want. It will only take some flights to find the desired value! Either boost frames all the way up, or all the way down so you would gain graphic stability and smoothness or of course, anything in between !
Of course the main advantage is that you can do it LIVE! For example if at a very congested airport where frames naturally drop, you may use the 100% setting, but while flying you may use a less aggresive setting of 50%...
Application is available also on a fully function-limited time demo version. Just test it out for a bit (10 uses , 5 minutes each) and see if that suits you. If it works for you, just take the chance to improve your flying experience.
You can download the demo from here
Features:
Direct connection to P3D
Instant results
No edit to prepar3d.cfg and user's options.
Up to 200% FPS (frames per second) improvement
Product requirements
P3D Booster Live, can run at any PC that is able to run Lockheed Martin P3D . However some requirements must be met.
Limitations:
One active installation on only one PC at any given time. (Checked via online validation after every installation.) Users can have the application install on multiple computers moving the active license around using the "Transfer License" function.
P3D Booster Live must run on the P3D PC in order to communicate with it. No remote option.
P3D Booster Live is not compatible with: P3D Fiber Accelerator or old P3D Booster / Xtreme P3D PC apps. Should run alone.
Requirements
Operating system : Win XP/ Win 7/ Win 8/ Win 10 / 32 or 64 bit
Microsoft's NET Framework : At least 3.5 SP1
Simconnect requirement : No
FSUIPC Requirement : No
Free updates : Yes
Internet connection : Up and running internet connection for activation and license checking of the product.
Network execution availability : No
Limitations : One active installation on only one PC at any given time.
Manual : PDF viewer application for reading the manual.
Submit a review of this product