This addon is compatible with
Microsoft Flight Simulator X
. It should also work with
Microsoft Flight Simulator X: Steam Edition
. Some developers have explicitly stated compatibilty with Steam Edition but others haven't. Check the product description below for guaranteed compatibility. Just because it doesn't mention it, this does not mean it will not work with the
Steam Edition
.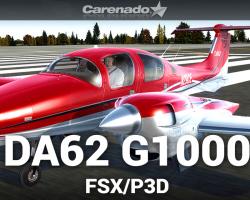 Media Format

Immediate Download

Compatibility

Microsoft Flight Simulator X inc. Steam Edition & Prepar3D (including v4)

File size

580 MB
As one of the most modern names introduced into the aviation industry, Diamond has become a staple for modernism and experimentation. The Diamond DA62 is a fine example of this; a five-to-seven seat aircraft that is all about lightness of weight and ease of movement. It has been around since 2012, and in that time has quickly become a very popular aircraft for numerous reasons.
Sleek, slim and very modern in its design, the DA62 is an aircraft many would like to fly. Now, FSX and P3D users can do so: this take on the Diamond DA62, complete with a stunning G1000 cockpit, allows for the best possible testing of a very popular aircraft. It's a very interesting aircraft in that it comes with various versions – the lighter five-seat "European" version and the seven-seat, much heavier "US" edition.
Whatever you would like to fly, this add-on makes it easy for you to enjoy the wider aviation experience. With the capacity for hitting speeds as high as 228mph, this is the kind of aircraft that you should find very easy to get used to. Give yourself the chance to enjoy a much more robust and modern flying experience today with the Diamond DA62.
What's New?
Highly improved take on the Diamond DA62 for both FSX and P3D v2-4. Steam compatible.
A high-quality 3D model that comes with bespoke built textures for the utmost realism.
Carenado G1000 cockpit included with SID, STAR and APP functionality.
A fully updateable database, with AIRAC Cycle 1601 – January 2016 – included already.
Impressive material shines and reflections truly stand out even in older simulators.
Flex wing effect included showing the flexibility of the entire aircraft.
Volumetric side-view prop effect, great for capturing memorable shots.
Window scratching and blade shines alongside small but impressive visual effects.
Totally adjustable panels to help control everything from the transparency of windows and instrument reflections to various static elements.
Authentic flight behavior to make sure this take on the Diamond DA62 flies to standard.
Impressive weight and balance of the aircraft, with everything adjusted to your exact needs.
Tested and worked on by real pilots who can verify the authenticity compared to the DA62.
What's Included?
7 HD liveries, and a blank HD livery for anyone who wishes to create their own.
LITE version with reduced features to help with performance limitations.
Normal and Emergency Procedure PDF booklets.
Performance Table PDF guide.
Carenado G1000 PDF to help master this unique kind of cockpit.
Carenado Navigraph G1000 PDF.
Recommended Settings for both FSX and P3D V4 PDF guide.
G1000 with Navigraph, complete with updateable database feature.
AIRAC Cycle 1601 – January 2016.
Submit a review of this product
Customers Also Purchased