This addon is compatible with
Microsoft Flight Simulator X
. It should also work with
Microsoft Flight Simulator X: Steam Edition
. Some developers have explicitly stated compatibilty with Steam Edition but others haven't. Check the product description below for guaranteed compatibility. Just because it doesn't mention it, this does not mean it will not work with the
Steam Edition
.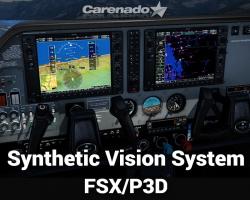 Media Format

Immediate Download

Compatibility

Microsoft Flight Simulator X inc. Steam Edition & Prepar3D v2, v3, v4, v5* AND a compatible Carenado aircraft equipped with G1000.

File size

90 MB
NOTE: To make use of this product, please ensure that you have working access to any Carenado aircraft that is equipped with G1000 features. If you do not own any Carenado products that provide this, please choose one before attempting to use the Synthetic Vision System for FSX/P3D.
*Fully compatible with P3Dv5 however please follow the installation instructions here.
If you are a fan of Carenado aircraft, then you will likely have utilized their G1000 system fitted into just about any Carenado model. As of 17th November 2017, though, these releases are now compatible with this Synthetic Vision System for FSX/P3D. This immersive system makes it very easy indeed for you to make the most of Carenado' top releases.
You will need to re-download any models downloaded prior to 17th November 2017, though, to utilize this add-on in the right manner. Used correctly, though, this helps to add a whole new level to aircraft and in-flight management.
You will get access to three years' permission to use the WebSimConnect SVS Cloud service, providing you with nine arc-second SVS databases of the terrain. This spans the entire globe!
Key Features
Now, you have total control over synthetic view of the terrain.
This allows for you to manage height and color via the map, fully consistent with MFD map display standards for easy integration.
Thanks to the terrain TAWS/B alerting system, too, you can easily use this add-on for greater tracking and immersion.
New ground textures help to add "noise" to the world below, making it easier to use these maps and fully read what is going on below.
Now shows up large water bodies such as rivers, lakes, and reservoirs to help give you a better idea of what lies below.
Flight path markers will make sure you have total control over where you are flying simply by using this screen.
Horizon heading marks will help you to always stay in control of the flight, aware of every deciding factor in flight accuracy.
Airport signs will show up, too, making it easy to plan and then re-direct flights to an airport when needed.
Runway display is included, too, with a fully updateable database that helps you to always stay on the right path to progress.
Various selected approach runway solutions will show up as fully outlined, making planning easier than ever.
Quality and performance configuration tool to help you get the best possible level of output as well as visual quality.
Submit a review of this product
Customers Also Purchased