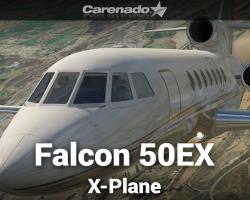 Media Format

Immediate Download

Compatibility

X-Plane 11

File size

551 MB
Features Version 1.1
High-end 4k PBR (Physically-based Rendering) graphics throughout, with ultra-realistic materials rendition (Dynamic reflections, realistic metal, and dielectric materials, etc.)
Fully customized in-depth annunciator logic/aural warning logic/throttle logic with functioning latches.
Optimized for VR.
Custom Proline21 avionics system, all featuring detachable pop-up windows
Integrated FMS with detachable pop-up window (Laminar default)
Custom Autopilot with a detachable pop-up window
Rain effect support*
In-depth FMOD sound design implementation, including distance effects, realistic turbine reversal effects, etc.
RealityXP GTN750 support (with 3D panel display support)
Custom electrical system/Starter Logic/Fuel System/Bleed Air System/Avionics busses/Hydraulic Logic
Extensive VR support
Extensive HDR lighting with gimballed 3D lights and dynamically illuminated ice lights for amazing night lighting effects
Includes pressurization and oxygen system
End-user customizable via Manifest.json file.
Goodway compatible
Engine design optimized for XP11.30's jet engine model
Support for "librain" plugin (Requires separate plugin install)
Librain support also includes visual ice effects on windows.
*Requires downloading Librain plugin.
Included in the package
6 HD liveries.
1 HD Blank livery
FA50 Emergency Procedures PDF
FA50 Normal Procedures PDF
FA50 Performance Tables PDF
FA50 Reference PDF
RTU Manual PDF
Carenado Proline 21 Manual PDF
X-Plane FMS PDF
Recommended Settings XP11 PDF
Submit a review of this product
Customers Also Purchased