This addon is compatible with
Microsoft Flight Simulator X
. It should also work with
Microsoft Flight Simulator X: Steam Edition
. Some developers have explicitly stated compatibilty with Steam Edition but others haven't. Check the product description below for guaranteed compatibility. Just because it doesn't mention it, this does not mean it will not work with the
Steam Edition
.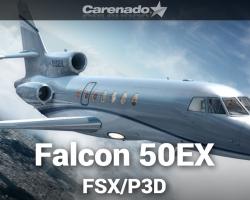 Media Format

Immediate Download

Compatibility

Microsoft Flight Simulator X inc. Steam Edition & Prepar3D v2, v3, v4, v5*

File size

800 MB
*Fully compatible with P3Dv5 however please follow the installation instructions here.
French aviation experts Dassault have produced numerous business jets, but among the most popular is super mid-size, long-range business jet, the Dassault Falcon 50. This jet comes with a rich trijet layout inside, and many improvements over older Flacon models like the Falcon 20. An advanced change to wing design and various other factors ensures that the Dassault Falcon 50EX is the ideal place to start for pilots looking for something more immersive.
It first came into production in 1976 and lasted until around 2008. Production led to over 350 of the Dassault Falcon being created before progress moved on to the Dassault Falcon 900. Regularly used by the South African Air Force and the Portuguese Air Force, this was also in use by the Armee de l'Air and the Italian Air Force.
The 50EX model came with some changes over the classic Falcon 50. This includes a change to TFE 731-40 engine, as well as a newly installed APU as well as rudder control system adjustments. Add in the improved avionics and various other minor changes, and the 50EX was a significant improvement over its predecessor.
Now, pilots can take to the skies of FSX and P3D versions 3 and 4 in a Dassault Falcon 50EX of their own.
Faithfully recreated to match up with the approach of the aircraft itself, pilots can enjoy a challenging flight at the helm of a very impressive piece of French aviation history. While it might have been out of production for close to a decade, its continued daily use shows its quality. Try it out for yourself with this authentic recreation.
Key Features
A full recreation of the Dassault Falcon 50EX for FSX & P3D v3/4.
4096 X 4096 quality textures for the closest attention to possible.
Bespoke, custom panel for window transparency, instrument reflections, and static elements.
Comes with an updateable database, with AIRAC cycle 1601 (Jan 2016) included.
Comes with optional winglets.
New flight effects included such as wing flex animations and flexing wing effects.
Adjusted Proline 21 included.
Authentic flight start-up experience included for the most realistic take-off.
FA50 flight sounds captured to help ensure the sounds and warnings are authentic.
Click spots and switch sounds help to improve atmosphere and usability in kind.
Cold and Dark start-up options for the easiest start-up.
Authentic take-off run and landing rolling movement feeling.
New customized brake sounds on taxi and landing runways.
Improved night lighting in the cockpit and on the panels for easier visibility.
Realistic flight behavior that ensures it flies true to the real FA50.
Tested out by pilots to see how it handles itself in a simulated environment.
What's Included?
A fully working model of the Dassault Falcon 50EX.
6 HD liveries that show the 50EX in various real-life livery designs.
1 HD blank livery that perfectly captures the look of the aircraft.
Emergency and Normal Procedure PDF booklets.
Performance Tables and Reference PDF guides.
Overhead Panel Layout guides and manuals.
Recommended Settings for P3D and FSX users.
Note: This does not come with a 2D Panel.
Submit a review of this product
Customers Also Purchased