This addon is compatible with
Microsoft Flight Simulator X
. It should also work with
Microsoft Flight Simulator X: Steam Edition
. Some developers have explicitly stated compatibilty with Steam Edition but others haven't. Check the product description below for guaranteed compatibility. Just because it doesn't mention it, this does not mean it will not work with the
Steam Edition
.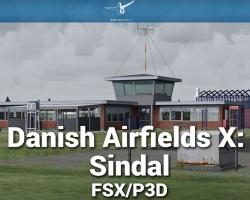 Media Format

Immediate Download

Compatibility

Microsoft Flight Simulator X inc. Steam Edition & Prepar3D v3, v4, v5

File size

600 MB
One of the most interesting features of using a flight simulator is getting the chance to take on new experiences and visit fresh venues. Unfortunately, one of the main problems many fans find with smaller airports is they are poorly represented. With this mod, you can turn the Sindal Airport in Denmark into a whole new airport.
In the past, this northernmost airport in Denmark would look fairly unremarkable, with no real changes or improvements to it. With this modification, though, you can change to make the airport far more interesting to look at and use.
With 19cm/pixel photorealistic terrain being used alongside a day and night (and seasonal) texture offering, you get a far more authentic look throughout the region. Not only is the airport improved, but nearby areas have been improved to help make sure that the scenery includes a highly detailed set of changes that really does help make it feel different.
Authenticity is a big thing, and with this mod, you can certainly introduce a whole new range of significant improvements. From farm buildings and vehicles to vital airport buildings and even AI traffic, the whole location of Sindal Airport can come alive at once!
Major Improvements
A large array of reworking when it comes to the way the airport comes across. Its lackluster original appearance in both FSX and P3D means that it usually lacked the vitality to remain memorable. With this, though, you can see a much more detailed take on the airport.

19cm/pixel aerial imagery with day and night textures being included, alongside season versions as well. This helps the airport stay different whether you arrive during a winter storm or a blazing summer.

High-resolution photorealistic imagery is also used for the building textures, helping the rest of the airport come alive with a strong looking theme. This improves its overall character, making the whole airport feel far more hospitable than before.

Customized vegetation to help set the scene, even more, adding some much-needed difference to the scenery and the nearby volumetric grass. Sets the right kind of style within the airport, too.

GA AI traffic helps to make sure the aircraft around you can fly with relative ease. The AI traffic handles themselves well, and add a nice bit of extra vitality to the whole airport.

Exciting new products and models adjourn the airport, helping make it look fresher than ever. With new models, objects, and vehicles making their way into the airport it can feel far more original than before.

Adds a fresh layer of character to the airport with new FSX-only animations. From animated windsocks and hanger doors, you can see the airport in live operation which adds more charm.

A lot of minor details are also included throughout, such as hanger models and farm buildings being designed on proper Vidan Design models for something special. Offering a really impressive look and feel, beyond, what is normally capable in either simulator.

Manual included for both German and English speakers to learn from.
Submit a review of this product