This addon is compatible with
Microsoft Flight Simulator X
. It should also work with
Microsoft Flight Simulator X: Steam Edition
. Some developers have explicitly stated compatibilty with Steam Edition but others haven't. Check the product description below for guaranteed compatibility. Just because it doesn't mention it, this does not mean it will not work with the
Steam Edition
.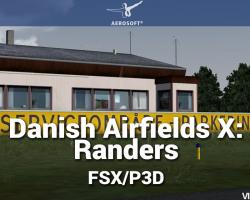 Media Format

Immediate Download

Compatibility

Microsoft Flight Simulator X inc. Steam Edition & Prepar3D v3, v4, v5

File size

82 MB
If you hail from Denmark or love flying to Scandinavia to take in its unique landscape, Danish Airfields X is what you need. As you might expect, this mod takes major airports across Denmark and reworks them to ensure that they remain as hospitable as they possibly can. This development helps to turn Randers Airfield in particular into a much more immersive and enjoyable airport to arrive at. If you have ever been to Randers, then you will notice immediately just how special this airport is!
As the sixth-largest city in Denmark, this sits just on the Jutland peninsula. For that reason, the airport should feel bustling and busy; this mod helps to add that business and bluster to the whole airport itself. With custom-made runways and taxiways, as well as handmade 3D objects, this airport feels truly its own. The new custom-added lights and fresh textures help to make the architecture and atmosphere of the airport as impressive as possible.
Also, this fine airport is home to the famous Randers Flying Club!
As one of the most popular flight clubs across Denmark, you can enjoy watching the RFC above in the air taking on all manner of events above the airport. The two flying schools here, too, help to add extra weight and volume to the number of people who come here to spend their time, adding even more detail and enjoyment to the Randers Airfield experience
Owned by Randers Kommune, this is a commercial and general aviation airport that will see a lot of traffic from various backgrounds arrive as you fly above. Now designed to be much more active and also visually impressive, you should be able to spot everything including the Royal Danish Air Force SAAB F-35 Draken fighter sitting at the entrance of the airfield!
Key Features
A closely detailed and precise interpretation of Randers Airfield. This helps to add a touch of depth and detail to the airport that was missing beforehand.
Highly detailed runways and taxiways help to make a very impressive and detailed airfield that is immediately easy for you to settle into and feel one with the atmosphere.
Models are made with GMax to make sure they carry the best attention to detail that they can.
Want to fly in summer or winter? You can do so with ease; just choose the season you wish and watch the airport alter to suit!
AI traffic helps to add extra business and weight to the airport, keeping it as enjoyable as possible to fly to and from.
Submit a review of this product