Concorde Add-on (DC Designs) for FSX & P3D

1 reviews


This addon is compatible with
Microsoft Flight Simulator X
. It should also work with
Microsoft Flight Simulator X: Steam Edition
. Some developers have explicitly stated compatibilty with Steam Edition but others haven't. Check the product description below for guaranteed compatibility. Just because it doesn't mention it, this does not mean it will not work with the
Steam Edition
.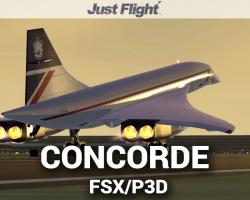 Media Format

Immediate Download

Compatibility

Microsoft Flight Simulator X inc. Steam Edition & Prepar3D v1, v2, v3, v4 & v5

File size

240 MB
Brought to us by DC Designs this highly detailed add-on for P3D/FSX of the classic Concorde is surely a must-have for virtual pilots of all abilities and levels of interest.
The development team has made multiple and extensive visits to museum-exhibits to research the real preserved version of this iconic aircraft and that determined and thorough research is certainly apparent, not least in the fully animated exterior which includes detailed reproductions of parts such as the access doors, the engine inlet ramps, and the thrust-reverse buckets.
The iconic "nose droop" has been accurately recreated using custom coding, while both the interior and exterior have lifelike night lighting bringing this classic plane to life even more.
A fully 3D virtual cockpit is also included, with detailed texturing (PBR for P3D v4/5 only) and authentic and realistic controls. What's more, the Captain, First Officer, and Engineer's station are all active.
The entire cockpit, including authentic and detailed instruments, dials, access doors, and lighting is lifelike and reproduced faithfully. There is the option to use Virtual Reality headsets with the add-on.
The handling of this reproduced Concorde, which is highly realistic and features Mach 2 "supercruise" capability, and a working TCAS display. Required tasks for the virtual pilot (through a custom-coded engineer's station) which include fuel management for Centre of Gravity control during those high-altitude cruises are also included.
The simulator's internal GPS/flight plan system provides the data for the Inertial Navigation System.
Several liveries are included and available – British Airways 1985-1987 and 1998-2003, Air France 1976-2003, and Singapore Airlines G-BOAD – as well as a complete operations manual and paint kit.
Features
Accurately replicated Concorde using thorough research based on the real aircraft from museum exhibits
Highly accurate reproductions of all aspects of the exterior – access doors, thrust-reverse buckets, etc., as well as authentic iconic "nose droop"
Lifelike night lights for the interior and exterior
Highly detailed 3D virtual cockpit, with accurate instruments, dials (HIS, ADI, 'whiskey' compass), controls, lighting, and detailed texturing (PBR for P3D v4/5 only)
Operational Captain, First Officer, and Engineer's Station
Boarding step and crew-controlled Ground Power Unit
Authentic and accurate flight model, realistic handling, with Mach 2 'supercruise' capability
Set up for use with Virtual Reality headsets
Includes complete operational manual and paint kit
Liveries Included
British Airways 1985-1987
British Airways 1998-2003
Air France 1976-2003
Singapore Airlines G-BOAD
Customer Reviews
Rated 4.0/5.0 based on 1 customer reviews
01/10/2021

4

/

5

I enjoyed the high level of detail and many of the features of this Concorde. However, on approach and landing, the autopilot function would not hold altitude at 4,000 feet or below, and the plane would slowly drift into the ground. Also although the reheats would engage and provide additional thrust I could never see any reheat effects. So, because I could not use autoland I had to regretfully return the plane for credit. That was a month ago. Maybe they have fixed my issues by now. Hope so!
Submit a review of this product
Customers Also Purchased