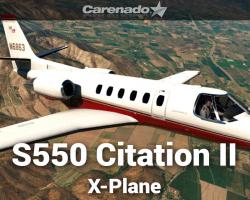 Media Format

Immediate Download

Compatibility

X-Plane 11

File size

370 MB
Ever since 1977, the Cessna Citation family of aircraft have made it easier for all of us to enjoy our flights. A hugely popular aircraft line, the Cessna Citation II has long been one of the most popular of the Cessna brand as a whole. Now, users of X-Plane 11 can make sure that they take to the skies and enjoy the same kind of enjoyment as before. This new add-on makes sure that you can make use of the latest features of X-Plane 11 and ensure you can really get the very maximum out of your new simulator.
Aircraft like the S550 are often quite hard to fly, and this add-on removes none of that challenge. This should make it much more rewarding to fly, ensuring that you can really enjoy your aviation experience like never before thanks to the more rewarding nature of the challenge.
What's New?
Fully compatible with X-Plane 11, designed to match the standards of this most modern simulator.
Fully designed with an FPS-friendly model ensuring that performance can remain high alongside presentation.
100% VR compatible for anyone who is looking to make the most of a VR headset when using X-Plane 11.
Newly designed flight dynamics and aircraft physics to fit in with X-Plane 11 standards including new ground handling adapted for XP11 features.
Physically based rendering used on all materials and textures for the aircraft, creating a much more immersive and welcoming image.
Created using movie and gaming industry software to ensure the overall presentation and performance is as professional as is possible.
Authentic flight behavior is included compared to the real aircraft. Overall aircraft weight and balance is managed carefully and is tested by real pilots.
100% compatible with common tools such as Goodway.
What's Included?
Full support for RealityXP's GTN 750 (sold separately).
6 new HD liveries are included based on real-life aviation designs for the Cessna S550, as well as new 1 HD blank livery to help create your own bespoke liveries.
New Normal and Emergency Procedure, Performance Table and Reference Table PDF guides. Also comes with EFI and MFD PDF details.
Recommended Settings content for anyone who wishes to make the most of their X-Plane 11 add-on.
Submit a review of this product
Customers Also Purchased