This addon is compatible with
Microsoft Flight Simulator X
. It should also work with
Microsoft Flight Simulator X: Steam Edition
. Some developers have explicitly stated compatibilty with Steam Edition but others haven't. Check the product description below for guaranteed compatibility. Just because it doesn't mention it, this does not mean it will not work with the
Steam Edition
.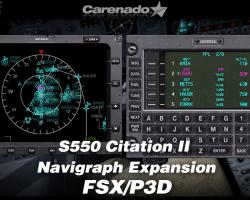 Media Format

Immediate Download

Compatibility

Microsoft Flight Simulator X inc. Steam Edition & Prepar3D v2, v3, v4, v5* AND Carenado Cessna S500 Citation II

File size

64 MB
This product is an expansion for the Carenado Cessna S550 Citation II HD Series aircraft for FSX/P3D. You must have this product to use this expansion.
*Fully compatible with P3Dv5 however please follow the installation instructions here.
It always helps to have an easier way to get around the skies in the world of flight simulation, and with this brilliant made you can offer some very helpful Navigraph Expansion add-ons to help make that possible.
Indeed, the only thing you need to do right is to install it Ė after this, you will have no problems at all in flying around the world in the way that you please! This comprehensively changes the entire way that you might decide to fly, adding some much needed improvements to what was originally here.
Please note that to use this mod you will have to use the Carenado Cessna S550 Citation II HD Series Aircraft, for FSX and P3D. This Navigraph Expansion mod will not work without the use of this extra mod.
Whatís New?
An updateable database meaning that you donít have to put up with outdated additions and a lack of improvement to the way that you fly. Make sure you have all the right information in your database with an easy to update system making it easy to stay on track at all times.

Makes use of an AIRAC Cycle 1310, released October 2013, to give you even more power and control than ever before.

Uses a Universal Flight Management System, with the ability to load departure lounges via SID, load arrivals via STAR and load approaches via RNAV/ILS/VOR as well for much greater functionality than you may have had in the past.

Uses a multi-colored screen display to help you get used to what screen displays what, meaning you can only take the quick glances that you need to capture the right look and image.

Set up different altitudes for various different waypoints, too, using VNAV.

Use both VNAV and NAV depending on what you choose.

Added in a new FMS, EHSI and PFD with the Navigraph to make it updateable to the database level you want.

Uses a S550 FMS and PFD manual, easily read in PDF format to help you learn anything you need.
Submit a review of this product
Customers Also Purchased