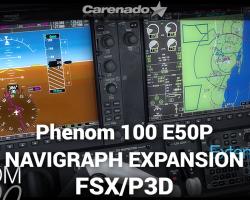 Media Format

Immediate Download

Compatibility

Microsoft Flight Simulator X inc. Steam Edition & Prepar3D v2, v3, v4, v5* and Carenado Phenom 100 E50P

File size

66 MB
This is an extension pack for the Carenado Phenom 100 E50P. This means that you HAVE TO HAVE that aircraft in order to run this extension pack. You can find the base package here.
*Fully compatible with P3Dv5 however please follow the installation instructions here.
If you like to fly with the Phenom 100 E50P, you might find its navigation features are somewhat lacking. However, with the help of this new Navigraph Expansion Pack for Phenom 100 E50P, you can make it much easier to get into the skies with consummate ease.
By making sure you can enjoy a much more impressive and modern improvement to the aircraft, you will make navigation so much easier overall.
By including a new G1000 Prodigy for use in the cockpit, you can use a fully upgradable Navigraph database.
All you need to do is subscribe to the Navigraph program and you can make use of fully updated new systems. Otherwise, this uses the AIRAC Cycle 1310 data from October 2013.
What's new?
An impressive new database that can easily be modified, modernized or updated in any way that you might wish.
Fully working AIRAC Cycle 1310 from October 2013 is used to help make sure you get a more up-to-date navigations tool.
G1000 Prodigy offers you access to SID, STAR, RNAV, ILS, VOR, etc. features to help you easily load procedures, arrivals, and approaches.
All of your new features come delivered with a multi-color screen display that should make it easier for you to see the changes you have to make.
Fully working NVAC feature operative making sure that every flight in your Phenom feels easier to manage and control.
G1000 Prodigy manual is included to help you install and make the most of these new features.
What's needed?
A fully working and stable internet connection.
A previous installation of the EMB505 Phenom 300 HD Series for P3D/FSX.
A fully working copy of FSX, FSX: Steam Edition or P3D v2.5/3.0.
Pentium V/3GHz processor as a minimum, with 512GB RAM – 4GB recommended.
512MB graphics card minimum.
70mb free space on your HDD.
Submit a review of this product
Customers Also Purchased