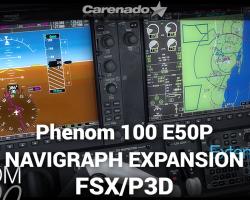 Media Format

Immediate Download

Compatibility

Microsoft Flight Simulator X inc. Steam Edition & Prepar3D (including v4) and Carenado Phenom 100 E50P

File size

66 MB
This is an extension pack for the Carenado Phenom 100 E50P. This means that you HAVE TO HAVE that aircraft in order to run this extension pack. You can find the base package here.
You don´t need to have a subscription with Navigraph because this extension pack installs an October 2013 Navigraph database which has all the information you need to perform a flight. But if you want to keep your database up to date you will need a subscription with Navigraph (click here to get it).

Features
Updatable database
AIRAC cycle 1310 (October 2013) included
G1000 Prodigy

Load a departure procedure (SID)
Load an arrival (STAR)
Load an approach (RNAV, ILS, VOR, etc.)
Multicolor screen display

VNAV feature operative
Included in the package
G1000 Prodigy with Navigraph updatable database feature
AIRAC cycle 1310 (October 2013)
G1000 Prodigy manual PDF
Technical Requirements
EMB505 Phenom 300 HD SERIES FSX/P3D Previously installed
Windows XP with SP3 installed, Vista or 7 (32 or 64 bits).
Microsoft Flight Simulator FSX with SP1 and SP2 (or Acceleration Pack) installed or Lockheed Martin - Prepar3D Flight Simulator v2.5 or v3.0.
Pentium V/3GHz or similar
Minimum 2GB RAM (Recommended 4GB RAM)
512MB graphics card.
70MB available hard disk space.

INTERNET CONNECTION is required for installing this product.
Submit a review of this product
Customers Also Purchased