This addon is compatible with
Microsoft Flight Simulator X
. It should also work with
Microsoft Flight Simulator X: Steam Edition
. Some developers have explicitly stated compatibilty with Steam Edition but others haven't. Check the product description below for guaranteed compatibility. Just because it doesn't mention it, this does not mean it will not work with the
Steam Edition
.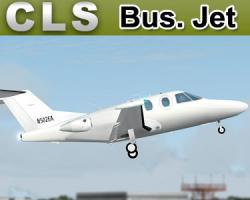 Media Format

Immediate Download

Compatibility

Microsoft Flight Simulator X & 2004

File size

48 MB
Commercial Level Simulations have been making realistic and genuine aircraft models and enhancements for Microsoft Flight Simulator games for a while now, and this Business Jets Pack gives you everything that you need to cruise to the skies in style. Bringing a wealth of high-end 3D representations of a popular business jet, allied with intricate designs of the cockpit and the features of the real thing you can get a realistic feel for what it's like to take one of these business jets.
What You Get
You get access to a huge amount of liveries, too, give you various different looking jet style aircraft that really this lets you get a huge amount of value for your money, and ensure that you are flying professional feeling and authentic business aircraft in the simulator in no time at all. The package also includes a hugely genuine sound set that has been created using many different samples and then professionally optimized for the best quality possible.
On top of this, many smaller features have been included such as a professionally written operations manual that comes with all the tips and help that you possibly need to be able to fly this aircraft in a simulator. This takes away all of the difficult questions and makes the learning curve far fairer than it used to be, making sure that you can download and enjoy a flight all in the same sitting.
Additionally, you are provided with authentic design both inside and outside the aircraft, complete with 3D designs throughout. The dynamics of the aircraft have been made to fit the design, giving you a plane that looks just as it performs – sleek, elegant and fast. If you want to fly in style, and have a wealth of modern features available to you, then this business jets pack is ideal.
Inside the plane you will see a 3D pilot model that will move and animate along with the plane, giving it that extra sense of realism as you take through the skies. There's also a 3D passenger so that you can have a little more purpose to the flight than just testing it out every time! Now you've got an excuse to fly half way around the world.
The smallest little inclusions have been made, as well, giving you extra authenticity with regards to the aircrafts feeling. The passenger door will regularly open and there will be a genuine life and atmosphere on the aircraft that makes it feel a lot more realistic than just a ghost aircraft. Even small additions like blocks being added to the wheels when the aircraft is parked add another layer of reality to the situation, making it far more enjoyable to be a part of.
Realistic sounds have been included to give the entire presentation that perfect finish – while the aircraft looks and performs as it should, the sounds included are equal in quality. This makes your aircraft have that perfect trio of quality, performance, and atmosphere.
Key Features
The smallest features are included to give the plane that authentic look – when the elevators and ailerons droop start to drop because the hydraulics are gone, you will really notice it as you would in real life!

The wheels are fully animated rather than partially as they are in most vanilla aircraft within the game – this lets you fly and enjoy the actual design quality of the aircraft as well as it's features and it's look. This is the most authentic representation you'll find of a business jet in terms of how closely it resembles the real thing

The windows will being to get covered in the weather as you fly, and wiper will keep it clear eventually – this is rarely seen in flight simulation software and makes this feel even more authentic than ever before. It adds yet another layer of extra detail to your aircraft simulation experience, making sure that you get to witness every aspect of the experience possible within the simulation engine

Glass in the cockpit has been designed from scratch to work with the weather functions, and is fully functional as the glass in the real thing – it gets dirty, but it looks a realistic as any cockpit glass possibly can

GPS navigation features are included to make the aircraft as responsive as possible – never lose track of where you are in the middle of a flight again with the help of the GPS navigator included. The included Primary Flight Display is hugely important and is designed specifically to suit the flight simulator, and provides you with almost unprecedented control over your aircraft. It allows you keep track of everything that is happening with regards to your performance as well, ensuring that safety and efficiency when flying is as easy as it possibly can be

Multi Function Display provides you with flight plan information, as well as a fully working radio page that allows you to get even more integrated into the experience that the simulator provides. The Altitude Indicators and Traffic Advisory systems are built on their real life counterparts and work on a live basis giving you the ability to track what's going on around you in simple –real time

Simple performance functions to make flying the aircraft as easy as possible for beginners, including Autopilot. This allows you to let the aircraft adjust to the settings you are still learning and don't feel confident with, and enjoy the flight experience rather than spending hours trying to learn the smallest nuances and never actually getting to enjoy your new business plane

The aircraft comes with detail information that you can use to learn and understand the aircraft completely. Leave nothing to change and learn what every feature and every specific little nozzle and lever does within the cockpit. Also learn key procedures for take-off and other simple basics that can help you learn how to utilize your aircraft faster and become a better simulated pilot as a result of this
Submit a review of this product