This addon is compatible with
Microsoft Flight Simulator X
. It should also work with
Microsoft Flight Simulator X: Steam Edition
. Some developers have explicitly stated compatibilty with Steam Edition but others haven't. Check the product description below for guaranteed compatibility. Just because it doesn't mention it, this does not mean it will not work with the
Steam Edition
.
Sound Pack Compatibility Note: This sound pack will work with any aircraft model, both freeware or payware in FSX and P3D.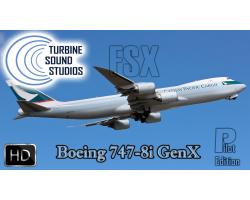 Media Format

Immediate Download

Compatibility

Microsoft Flight Simulator X inc. Steam Edition and Prepar3D (all versions including v4)

File size

143 MB
Being able to fly an aircraft that you like the look and feel of can be a great thing to try out in any flight simulator – with this mod from the Turbine Sound Studios, though, you get to have the best of the audio side of things with an incredibly detailed and balanced audio track that is needed for really capturing the atmosphere perfectly.
This all comes together in a thorough and impressive package that brings the Boeing 747-8 aircraft to life in a way that it has never been managed before. This mod works perfectly with any models of the 747-8 available elsewhere, so you can get that in-tune sound and feeling without needing anything else. Also, this recreation of the aircraft is the Pilot Edition, which manages to balance the sound even more so that it sounds just as it would have for the real pilots.
This is a great feeling in general for those who want that true level of simulation, as the noises that are most prominent to you will match those that you would be able to hear from the seat!
This massive recreation of the sound of this aircraft gives it a whole new level of realism and control over the original – now, you can use the audio to help improve your own ability as a pilot. You'll start to hear the problems that your aircraft is having as well as get to understand just what it sounds like when it's performing well or having issues. This along will help you become a far more diverse pilot.
What's Included?
A fine set of sounds that have recorded to ensure they meet all technical specifications within the flight simulator itself so that they run smoothly and sound just right. Additionally, the sounds have been recorded in both Schipol and Manchester to ensure the balance in each sound is correct

An immense array of unique sounds and styles that truly sound outstanding, giving the aircraft a finishing touch that really stands up to the HD graphics. A wide array of sounds are included inside, too, with various HD sounds captured from across real flights using the 747-8 to get everything spot-on

Engine sounds emanating from the inside and outside of the aircraft for total control and the most authentic feeling possible when flying your aircraft

Environmental sounds that capture the feeling and nature of the aircraft perfectly, with cockpit environment sounds that mix perfectly with thins like the wind and the weather expertly

Warnings that can come into play as well, such as if you stall the aircraft or are going to quickly – you even get a warning when you disengage from the autopilot feature making it easier than ever before to catch yourself out before making any mistakes

Every sound that is included comes in a stunning recreation of the original aircraft using authentic sounds and then managing and improving them so that they all sound consistent and detailed along with matching the actual sounds of the real thing
Submit a review of this product
Customers Also Purchased