This addon is compatible with
Microsoft Flight Simulator X
. It should also work with
Microsoft Flight Simulator X: Steam Edition
. Some developers have explicitly stated compatibilty with Steam Edition but others haven't. Check the product description below for guaranteed compatibility. Just because it doesn't mention it, this does not mean it will not work with the
Steam Edition
.
Sound Pack Compatibility Note: This sound pack will work with any aircraft model, both freeware or payware in FSX and P3D.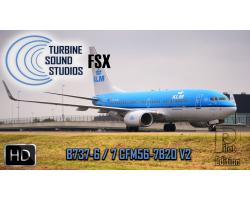 Media Format

Immediate Download

Compatibility

Microsoft Flight Simulator X inc. Steam Edition and Prepar3D (all versions including v4)

File size

110 MB
For those who feel like they need an improved audio experience aboard a Boeing 737-6/7 aircraft, this is the place to start. Fully recorded in high definition and with sounds taken directly from the aircraft, this makes it much easier for you to get a comprehensive sound experience.
New sounds are covered to help make sure that you pick up the kind of noise, chatter, and ambiance that one would expect from the cockpit. Built from scratch, this gives you an easy way to hear everything from start-up/shutdown to enjoying engines roaring from just about any angle you desire.
Designed for use with PMDG' FSX and P3D model this should work with most Boeing 737 models.
With this sound package aimed at capturing the sound of the Boeing 737 range, this carries the quality and accuracy that one would expect. The richness of sound produced by the Boeing as it takes off is an iconic sound in aviation; this helps you to capture that perfectly.
This makes use of the sounds that one would hear from a CFM56-7 engine; a powerful engine that was first introduced in 1995. Capable of take-off thrust from 19,500-27,300lbf, this is an engine that produces the sound to match. Once previously rather muted and limited in terms of the sound it could produce, this add-on helps to remove that problem once and for all.
Now, you can enjoy top-quality aviation sounds that actually fit with the aircraft that you are flying.
Key Features
A comprehensive range of new sounds, with over 80 sound files provided in total.
Every sound comes with a rich soundcone in 3D for the most immersive experience.
Internal and external engine sounds play together in harmony for the best experience.
Environmental sounds, from cockpit chatter to the wind, can be heard also.
Gear sounds play when you change the gear, making it easy to note changes mid-flight.
Crash and splash sounds are included to help you get the best crash experience, also.
Everything is recorded in full HD, with the aim of meeting the highest of FSX specifications.
Authentic sounds built on the knowledge found about the aircraft themselves.
Submit a review of this product
Customers Also Purchased