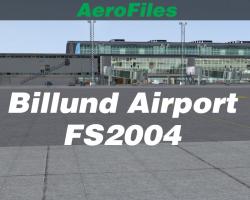 Media Format

Immediate Download

Compatibility

Microsoft Flight Simulator 2004

File size

89.3 MB
Billund Airport was constructed in 1964 by the Billund Airport Cooperative Society in response to the rise of international airlines and airports worldwide. Chairman A.M. Wamberg oversaw the completion of this grand airport in a single year of construction in Billund, Denmark. It was inaugurated November 1, 1964. Initially interested in providing nonstop international flights, their plans were put to a halt when the European Economic Community insisted on a single international airport in Denmark. This, however, was overturned later in 1984 when the first international nonstop flight from Billund took flight via Maersk Air.
As Billund grew in to an extremely popular tourist destination, Billund Airport required another terminal. With so many chartered passengers coming in now, along with the airports constant flow of cargo flights, the airport was becoming very congested by the two very different services offered. This was becoming an issue that needed to be dealt with quickly.
In 2002, a new terminal was constructed. Terminal Two was opened and assigned the task of taking care of all of the airports chartered passengers. This left Terminal One able to process the cargo aspect of the airport with no intrusions to or by tourists coming to see the ever popular Legoland.
Now, the Billund Airport serves over 2 million passengers every year along with the millions of pounds of supply it transports. Although the runway is large enough for the behemoth Boeing 747s, most of the people trafficked through the airport travel via ATR-47s, Boeing 737s, and Boeing 757s.
The following airlines are all part of the airports population: Delta, airBaltic, Air France, Atlantic Airways, British Airways, Danish Air Transport, Iceland Express, Icelandair, KLM, Lufthansa, Norwegian Air Shuttle, Ryanair, SATA International, Scandinavian Airlines, Turkish Airlines, Bulgaria Air, Finnair, Jetairfly, Primera Air, Thomas Cook Airlines Scandinavia, and TUIfly Nordic.
The airport boasts a whopping six large parking lots, all named after other countries: USA, Australia, Kenya, Spain, Egypt, and Greenland. It also provides a self service petrol station that is open 24 hours, and frequent running shuttle buses, so that all of your travel needs may be serviced.
Manufacturers Description
Billund Airport FS9 is now available for your flight simming adventures. This airport has been made with extreme quality photo real textures on the buildings. The model itself is so true to the real life airport, that you will be amazed.
Billund Airport is the second largest airport in Denmark. The airport has been beta tested by real world pilots, and by people with inside knowledge of the airport structure and placement of each building.
Furthermore, flight simulator fans as your self have been testing this product, to make sure that it works as advertised, and it does work.
Billund Airport was according to Wikipedia ranked as number 10 out of a few 100 in the Nordic countries, when it came to the total passengers count for that year. The count was on 22,835 at the end of 2009.
Billund Airport is well known among several nations, but mostly in these areas:
Denmark, Norway, Sweden, United Kingdom, Germany, Iceland, United States and Netherlands, just to mention a few of them.
Billund Airport is also well known for the theme park named Legoland.
Lego land Billund is the original Legoland theme park, located in the middle of Jutland, the part of Denmark that "juts" up from Germany.
Lego land Billund is located directly next to the Billund Airport (Billund Lufthavn).
(Legoland will be released as an extra download content free of charge later)
Photoreal ground textures are also planned as an update later.Look at the screenshots and compare it to the real life airport, or simply to the old FS2004 version which was released some years ago.

It is not hard to tell the realism this product has. It has taken several months to complete this project. Billund Airport FS9 had a total of 40 fps on the test system, which was an I5 dual core processor with 4 GB Ram, and had just under 30 fps on less greater systems which also were used for testing.
Product Features
Photo real Textures on all objects
18 Stunning Buildings
Accurate Models
Accurate AFCAD
Free updates and Download Content for the FS9 version
Unique real life night textures for the gate windows
Photoreal Night Textures
Accurate placed trees
Real Environment Extreme compatible
AI Addon Traffic compatible
AI Default Traffic compatible
Other Danish Land classes compatible
DanVFR compatible
Custom runway, taxiways and apron lights
Custom runway, taxiway light poles
Supports AES
Review
There's a lot to like about this little Danish airport. With all it's High Quality Textures and lighting I'd rank this one up there with the likes of Aerosoft's Megascenery series, which is no mean feat. Unlike Aerosoft's sceneries though, Aero Files Billund is a lot easier on the graphics card and that translates to better FPS. I managed a respectable 16 FPS in Level D's 767 and double that in the default aircraft. If you do find it a little hard on your system, check out Aero Files forum on their website. There they have a few tips and fixes for getting the most out of the airport whist saving you from the stutters. - Jessica Bannister-Pearce
Submit a review of this product