This addon is compatible with
Microsoft Flight Simulator X
. It should also work with
Microsoft Flight Simulator X: Steam Edition
. Some developers have explicitly stated compatibilty with Steam Edition but others haven't. Check the product description below for guaranteed compatibility. Just because it doesn't mention it, this does not mean it will not work with the
Steam Edition
.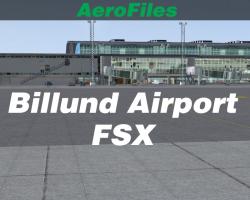 Media Format

Immediate Download

Compatibility

Microsoft Flight Simulator X

File size

63 MB
Billund Airport FSX is now available for your flight simming adventures. This airport has been made with extreme quality photo real textures on the buildings. The model itself is so true to the real life airport, that you will be amazed.
Billund Airport is the second largest airport in Denmark. The airport has been beta tested by real world pilots, and by people with inside knowledge of the airport structure and placement of each building.
Furthermore, flight simulator fans as your self have been testing this product, to make sure that it works as advertised, and it does work.
Billund Airport was according to Wikipedia ranked as number 10 out of a few 100 in the Nordic countries, when it came to the total passengers count for that year. The count was on 22,835 at the end of 2009.
Billund Airport is well known among several nations, but mostly in these areas:
Denmark, Norway, Sweden, United Kingdom, Germany, Iceland, United States and Netherlands, just to mention a few of them.
Billund Airport is also well known for the theme park named Legoland.
Lego land Billund is the original Legoland theme park, located in the middle of Jutland, the part of Denmark that "juts" up from Germany.
Lego land Billund is located directly next to the Billund Airport (Billund Lufthavn).
(Legoland will be released as an extra download content free of charge later)
Photoreal ground textures are also planned as an update later.
It is not hard to tell the realism this product has. It has taken several months to complete this project. Billund Airport FSX had a total of 30 fps on the test system, which was an I5 dual core processor with 4 GB Ram, and had just under 22 fps on less greater systems which also were used for testing.
Product Features
Photoreal Textures on all objects
18 Stunning Buildings
Accurate Models
Accurate AFCAD
IK Jetways (animated)
Free Mission Included
Free updates and Download Content for the FSX version
Reflections on Windows
Unique real life night textures for the gate windows
Photoreal Night Textures
Accurate placed trees
Animated nordic flags
Animated birds
Parking system, for parking help
Real Environment Extreme compatible
AI Addon Traffic compatible
AI Default Traffic compatible
Other Danish Landclasses compatible
DanVFR compatible
Custom runway, taxiways and apron lights
Custom runway, taxiway light poles
Special light effects at night
Airport Wizard compatible
Extra upcoming Billund missions, free of charge.
Vagar Airport FSX free of charge (with this order. Incl in the installer as an extra option)
Review
There's a lot to like about this little Danish airport. With all it's High Quality Textures and lighting I'd rank this one up there with the likes of Aerosoft's Megascenery series, which is no mean feat. Unlike Aerosoft's sceneries though, Aero Files Billund is a lot easier on the graphics card and that translates to better FPS. I managed a respectable 16 FPS in Level D's 767 and double that in the default aircraft. If you do find it a little hard on your system, check out Aero Files forum on their website. There they have a few tips and fixes for getting the most out of the airport whist saving you from the stutters. - Jessica Bannister-Pearce
Submit a review of this product