B-47E Stratojet for FSX/FS2004

1 reviews

This addon is compatible with
Microsoft Flight Simulator X
. It should also work with
Microsoft Flight Simulator X: Steam Edition
. Some developers have explicitly stated compatibilty with Steam Edition but others haven't. Check the product description below for guaranteed compatibility. Just because it doesn't mention it, this does not mean it will not work with the
Steam Edition
.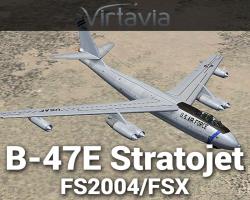 Media Format

Immediate Download

Compatibility

Microsoft Flight Simulator X & Microsoft Flight Simulator 2004

File size

60 MB
This aircraft manages to put together the most effective way of flying in a swept-wing multi-engine bomber. Given that it was the first, it retains that unique level of preventability and uniqueness to many people, given that it was such a game changer within the corridors of power in the USAF.
Now, you can get your hands on the original aircraft and finally see why this aircraft is so well loved. The power of the B-47E is truly staggering and you'll quickly find that it was a hugely powerful piece of hardware for a reason, due to its incredible depth and power. The engineers had been made to creating something a little more unique than your typical bomber, and this was the result.
Created in a high speed wing tunnel with swept-back wings, this is capable of carrying out bombing runs in the most ridiculous of scenarios; and now, you can do so too!
Key Features
When you download this you are provided with one model that come with three specifications – one with aux and tanks, one without aux and tanks and one with RATO bottles. Whatever you choose from you are getting a different kind of flight that will certainly make a difference to how you are capable of flying

This aircraft takes after its real-life counterpart in so many ways, managing to capture that deep and impressive design that includes extra graphical details. Things like bump mapping, self-shadowing and reflective boom designs all come together here in harmony and look absolutely fantastic, creating the perfect scene

Everything that has been included in the design of this project has been made to look the very best that it can, particularly the bare-metal textures sets. Additionally these can be adjusted and tied to your own needs, if you are of the creative mindset

RATO bottle packs are included alongside unique RATO flit models. These come with various unique additions and effects that look absolutely brilliant. This also includes things like custom white smoke effects as well as various different additions that look pretty awesome and make it easy for you to enjoy flying in this model

Water injection thick black smoke effects are included when you start taking off – this looks awesome and really does add to the entire scene that you are painting the level of strength that your aircraft is capable of creating. This looks perfect and ensures you get the perfect look when you start flying around in this aircraft

The inside of the virtual cockpit has been comprehensively reworked to ensure that it looks the part and that it can cover the detail and the depth needed to fly an aircraft of this caliber properly. This does try to cover everything possible and also ensures that the whole project can stay on course thanks to the range of awesome features you have access to. Add in the fact that the sticks, pedals and levers all work together and that the rear cockpit has been included and it's incredibly interest

There are so many different switches to work with and to go along with here, that it can become a bit confusing to control this thing properly! The best thing about the mousable switches, lights, starters and shutdown switches make it easy for you to control the aircraft and make things go the way that you wanted them to

Take full control of your flight and ensure that you can easily control if with the massively detailed and easily controlled 2D panels. With XML gauges, fully mousable features and custom pop-ups for things like radios and AP and you've got total control

Various pop-up fuel panels air included that are easy to use and simple to check even when you are flying, which normally seem quite a hard thing to do. With this though, you can have an easy ride of things and make sure that you are flying in the right way. This is based on the B-48 fuel management panel that is used in real life, which looks awesome and makes management simple

The aircraft itself comes with a hugely unique cockpit that has been made from scratch to fit with the design and the style of reality. This makes it nice and easy to control and also ensures that you have control of things like a checklist to check as you fly to make sure that you are on the track at all times as a pilot

Take full control of your aircraft with a reference file that gives you various functions and explanations that you will do well to take in and this will make your life so much simpler than it was in the past. To get the most out of this you simply need to hop into the cockpit and start reading all of the brilliant information left behind you

The entire design of the aircraft has been done to ensure that performance can stay safe and maintain a level of stability. To do this, the aircraft makes use of smart coding and design elements to ensure that your FPS rate can stay steady

Various animations have been made to be used such as animated bomb bay doors, deflectors, RATO packs jettisons, canopy's and crew entry via ladders. All of this looks brilliant and can be an excellent addition to the project if you want things to continue looking as best as they can

Authentic landing and navigation lights that look excellent and make it easy for you to land the aircraft, taking away the normal challenges that exist as you are trying to master the art of flying at night. This really does help make things go the way that you had intended

The undercarriage of the aircraft has seen significant additions and changes along the way which looks excellent and maintains a consistently high level of detail throughput

The rain effects will be quite evident if you are using FS9, this exclusive feature can really help to set the tone and atmosphere
Customer Reviews
Rated 5.0/5.0 based on 1 customer reviews
10/30/2017

5

/

5

Verified Purchase

Very Good sim for me, still using FS2004. Allows you to understand the flight parameters of the aircraft for T/o and landing. Looks good when flying other B47 AI aircraft at operating airfields. Very happy with purchase.
Submit a review of this product
Customers Also Purchased