This addon is compatible with
Microsoft Flight Simulator X
. It should also work with
Microsoft Flight Simulator X: Steam Edition
. Some developers have explicitly stated compatibilty with Steam Edition but others haven't. Check the product description below for guaranteed compatibility. Just because it doesn't mention it, this does not mean it will not work with the
Steam Edition
.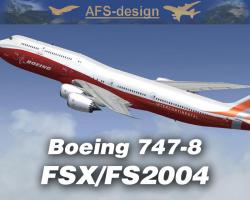 Media Format

Immediate Download

Compatibility

Microsoft Flight Simulator X & 2004

File size

37 MB for FS2004 - 63 MB for FSX
The Boeing 747-8 is an absolutely huge passenger aircraft, capable of seating over 400. But even an aircraft of this size is no match for the hardworking AFS-Design team, who have created a phenomenal model of this impressive aircraft, available as an immediate download for both Flight Simulator X and 2004. This Airbus competitor certainly has a lot going for it, and that fact, is mirrored perfectly with this download package.
A detailed exterior model, coupled with 1024 x 1024 resolution textures, create a fantastic portrayal of the Boeing 747-8 that belongs up there with the best of them. The textures feature specular shine, night lighting and alpha technology so that in all circumstances, you'll witness realistic reactions to light from the aircraft lights and environmental light sources, as well as authentic material reflections. This holds true for all of the included big name liveries, of which there are eight, including Lufthansa and British Airways. Numerous animations like flaps, slats, spoilers, and animated landing gear round out the visuals on the exterior and add more depth and realism to an already great model.
The internal model is just as detailed as the exterior, including the fully functioning virtual cockpit. Immersing yourself in the cockpit is incredibly easy in the Boeing 747-8; with about 100 real deposited switches in the upper panel, 'Seat-belt' and 'No smoking' signs accompanied by acoustic sounds and five multifunction displays, there is so much to keep you locked into the experience, and no bugs or missing details to break you out of it. Trim and engine thrust level control, a radio display with transponder and a Flight Management Computer with 15 different menus, are all housed in the center console. Not to mention a HUD that keeps important information easily readable, from an artificial horizon to velocity and much, much more.
If you're in the market for a new passenger jet, why not make it one of the best in the business? This package has everything you need for back to back hours of escapism with strong realism thrown in for good measure. With this Boeing 747-8, AFS-Design have created an aircraft that is both a challenge and tremendous fun to fly.
Manufacturers Description
AFS-design brings a excellent rendition of Boeing 747-8
The introduction of the Airbus competitor with its new double story large aircraft (above 400 seats) Airbus A380, Boeing came under pressure in 2004 and reached a more advanced concept 747-400 back and was as a competitor to the Airbus A380 747 Advanced advertised. On 14 November 2005, officially launched the project under the name of 747-8.
The 747-8 is further increased compared to the 747-400. It will close the capacity gap between Boeing 777 and Airbus A340 and the Airbus A380.
The increase in capacity is achieved by the extension of the trunk, which the Boeing 747-8 with 76.30 meters is the longest passenger aircraft in the world and thus replaces the Airbus A340-600 (75.36 meters).
It will be built (InterContinental = I) is a cargo variant called 747-8F (F = Freighter) variant and a passenger named 747-8I. Both versions have revised aerodynamic wing with modern wing tips, flaps and improved gapless Krueger flaps. In addition, the fuselage and wings in the new lighter and more corrosion-resistant aluminum alloys are installed. In addition, the cockpit has been developed, whose design is based on the cockpit of the 787th
The most important technological innovation, the 787 adopted by the Boeing jet engines from General Electric GEnx dar. These have a double-digit percentage lower fuel consumption compared to the 747-400 and the noise emission is reduced by 30%.
All models have a fully functional cockpit:
Five multi-function displays
Center console with FMC, radio display with transponder, trim and engine thrust lever control
Yoke with controllable switches
Upper panel with about 100 real deposited switches
"Seatbelt" and "No Smoking" sign with acoustic sound
Autopilot features: ILS, FD, ALT, VS, HDG, NAV, speed, Mach, Loc, autothrottle / Master, QNH
HUD - Display: artificial horizon, velocity, G, Mach, TAS, IAS, compass, QNH, height, pitch
2D panel in the resolution 1280x720 px / 3D panel with 1024x1024 px textures
FMC ( Flight Managment Computer ):
15 differents menus
Gauge of miscellaneous flightparameter
Use of flightplan
Calculation of courses analogical wind, highlevel and aerodrome of destination
Follow of waypoints
Course gauge and autopilot control
Other features:
All models are for the Microsoft Flight Simulator FS2004 and FSX
Detailed external and internal model including Virtual Cockpit
Animations in the external model: flaps, slats, spoilers, three cabin doors and two hatches, animate gear
Extensive lighting effects of windows and exterior lighting
Exterior lighting: Beacon-, Strobes-, Nav-, Landing- and Taxi- Lights
Virtual Cockpit: panel light, window reflections, highly detailed, including avionics for radio navigation
Panel with FMC ( Flight Managment Computer ) and GPS ( Global Positioning System )
Engine thrust reverser including animation and realistic flight dynamics
All models with ATC-ID sign in the cockpit and exterior models.
New textures (1024*1024) with specular shine, night lighting and Alpha technology
Gangway stairs and Logo Light
The Boeings 747-8 are equipped with a variety of liveries:
Industrie house
Lufthansa
Korean Air
Qantas Airways
British Airways
United Airlines
UPS Airlines
Blank Texture for Repainting
Submit a review of this product
Customers Also Purchased